EXCLUSIVE VIDEO: Rapper Waka Flocka's Camp Says Everything's OK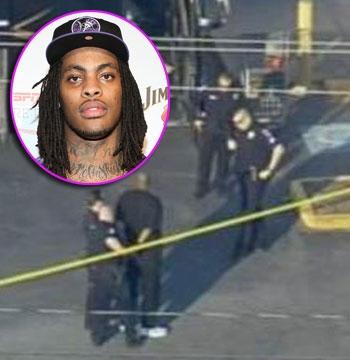 Just hours after a reported shooting involving their tour bus, two associates of breakout rapper Waka Flocka -- his brother and fellow rapper French Montana -- told RadarOnline.com exclusively on Thursday that the incident was overblown in media reports.
As RadarOnline.com previously reported, at least seven shots were fired in a gun battle involving rapper Waka Flocka and his entourage in East Charlotte, North Carolina. The rapper's tour bus was surrounded by crime tape Wednesday evening outside Car Stereo Warehouse on Independence Boulevard near Bojangles Coliseum, where police said the rapper, whose real name is Juaquin Malphurs, was at the store to have a stereo system installed in his tour bus.
Article continues below advertisement
PHOTO: Gucci Mane's 'Cool' New Face Tattoo
"What's going on out there world," Waka's brother said. "There's a lot of things being said right now but we're all good, we're all straight. Nothing happen to nobody, nobody else did nothing."
French Montana chimed in, "Don't believe the Internet: the Internet will lie to you.
"Ain't nobody get shot, everybody good, know what I'm saying?" Montana said. "We still out there everything straight, ain't nobody in trouble."