Exclusive
EXCLUSIVE INTERVIEW: Music Exec Blasts Bravo's Andy Cohen For Verbal Attack on Heidi Montag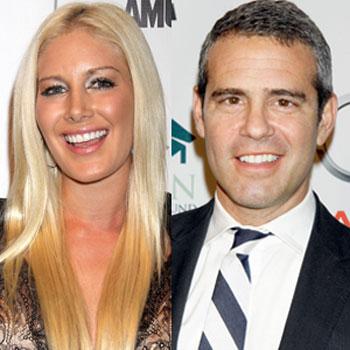 Heidi Montag and Spencer Pratt aren't the only ones shocked by Bravo network executive Andy Cohen's offensive verbal tirade. Famed rap management agent Deb Antney spoke exclusively to RadarOnline.com and blasted Cohen describing his comments as "disgusting."
"For someone as a professional - who makes their living off shows about women - to make a comment like that, it's just disgusting, let alone someone in the same business." Antney said about Cohen who has hosted many Bravo's Housewives reunion shows.
Article continues below advertisement
Last week, Cohen referred to Heidi as "trash" in a aggressive assault after Montag suggested she join the cast of Real Housewives of Beverly Hills and Tweeted "Watch out Real Housewives of Beverly Hills. Here comes Heidi."
Cohen went on to add, "Professionally, I'm not supposed to discuss any negotiations so I have to parse my words here. That trash is delusional and I would sooner stab ... knives into my own eyes than see her on this network." He then called her the "Jackhole" of the week.
While Cohen made it clear he wouldn't be working with the 24-year-old reality star, Antney - who runs the Atlanta-based Mizay Entertainment that boasts hot acts such as Nicki Minaj, Gucci Mane and of course, Waka Flocka - says he's the one who is missing out.
"They're loss is someone else's gain," Antney explained.
"Heidi is a lovely young woman with so much talent, people just don't know her."
Antney has taken Heidi on as a new client despite the fact that Heidi previously spent a whopping $2 million on a failed attempt at a music career.
Article continues below advertisement
"They'll see, Heidi has a team that is going to bring out the best in Heidi, she's raw talent. She's a gorgeous, young woman and her fans will be in line to buy her new music."
"My office is getting calls every minute about her - what's new, wanting to be a part of it. She's going to be off the hook."
Antney is so confident Heidi will be a hit, she told RadarOnline.com: "Give it a year, she'll be on that Grammy stage."