PHOTOS: Booty Or Bust!? Bikini Bods From Every Angle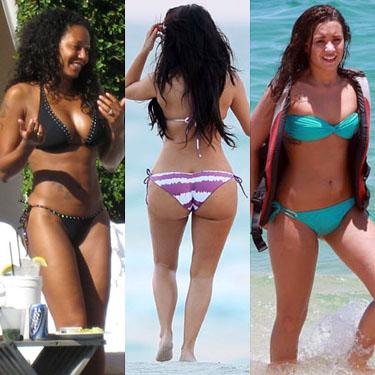 From the front to the back, these bikini babes are sexy without a doubt, but what are their most impressive assets? RadarOnline.com puts your favorite swimsuit sirens to the test, in this sizzling hot photo special!
Kim Kardashian's nickname is The Tush, but the reality show star's famous backside isn't her only impressive asset-she is also one of the most boobiful stars in Hollywood. See side-by-side shots of Kim from back to front by clicking here.
Article continues below advertisement
Ice-T's wife Coco definitely makes a splash with her curvy bod. The blonde model loves flaunting every inch of her voluptuous figure in beyond skimpy and scandalous g-string bikinis. What part of Coco's body brings the most heat to the beach? To find out, click here.
There is no question why George Clooney fell for Italian beauty Elisabetta Canalis. From her rock hard bum to her golden globes, the gorgeous star has a perfect-10 bikini body, which looks flawless from ever angle. See Elisabetta stripped down in a skimpy pink bikini here.
And when it comes to the Jersey Shore, Angelina Pivarnick and J-WOWW definitely know how to steam up the beach with sexy swimsuit. Though both babes have what it takes to make the guidos break a sweat, they still have a little work to do on their bikini bodies. See Angelina here and J-WOWW here
See all your favorite singers, reality show stars and actresses from every angle by clicking here.
RELATED STORIES: