PHOTOS: Booty Shaking Bikini Bods!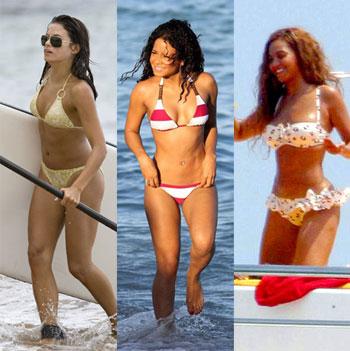 Booty shaking movies are taking over this holiday season, as Christina Aguilera, Kristen Bell and Cher will be doing Burlesque on the big screen Wednesday, while Natalie Portman and Mila Kunis will be getting ballerina beautiful on Friday, December 3rd in The Black Swan.
They aren't the first big screen babes to dance their booties off in the name of cinema! RadarOnline.com has compiled photos of the sexiest stars to hit the dance floor and stripped them down to their skimpy swimsuits in a special bikini feature!
Article continues below advertisement
Jessica Alba got her first taste of leading lady status when the Dark Angel hit the big screen in 2003's Honey. The hard-bodied hottie played a music video choreographer, who had all the right moves on the dance floor. The sexy star still knows how to blow the competition away—when she hits the beach in her barely there bikini!
Jennifer Lopez knows how to do the tango!
The sizzling Latina star strut her stuff with Richard Gere in the 2004 flick Shall We Dance, where she played the silver fox's ballroom dance instructor. The movie wasn't exactly a commercial success, but it was fun watching Jen shake her thing. It is even more fun watching the hot mamma show off her fabulous figure in her diva-lightful bikini wardrobe.
See J. Lo make a splash in her red string bikini here.
When it comes to looking sexy, these ladies know how to Step Up!
While professional dancer Jenna Dewan made her acting debut in the first Step Up, (landing leading man Channing Tatum while she was at it!) hip-hop hottie Cassie starred in the sequel, Step Up 2: The Streets. Both ladies work up a sweat in their down time, making sure to keep their bikini bods in tip-top shape.