Waka Flocka Shot At In Charlotte, Tour Bus Involved In Crime Scene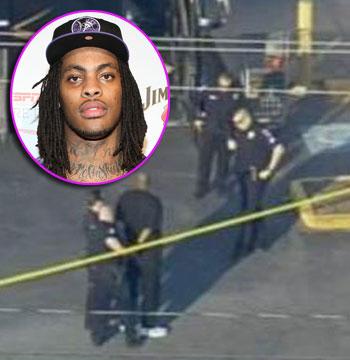 At least seven shots were fired in a gun battle involving rapper Waka Flocka and his entourage in east Charlotte late on Wednesday, RadarOnline.com is reporting.
The rapper's tour bus was surrounded by crime tape Wednesday evening outside Car Stereo Warehouse on Independence Boulevard near Bojangles Coliseum, reports the CharlotteObserver.
Police said Juaquin Malphurs, better known as Waka Flocka, was at the store to have a stereo system installed in his tour bus.
Article continues below advertisement
One person - not the rapper - was shot in the shoulder.
There are conflicting reports about whether the musician, his brother and a store worker were detained by cops.
Waka Flocka's bus was shot four times, security followed appropriate protocal and returned fire,² the musician¹s publicist told RadarOnline.com.
"Random cars apparently pulled up and began shooting, so I am told.
The spokesperson said "Waka is fine and so is his the team".