Exclusive
EXCLUSIVE: Oksana's 007 Ex Timothy Dalton Will Testify Against Mel Gibson -- Her Secret Email To Lawyer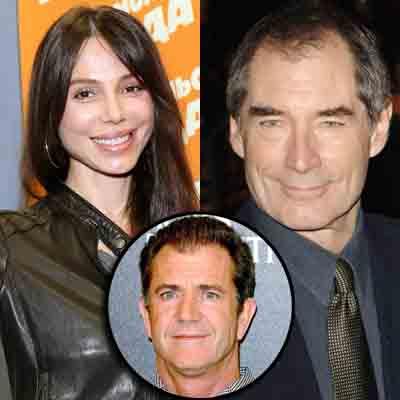 It's Mad Max vs. James Bond.
Oksana Grigorieva confessed to ex-lover, Timothy Dalton, that Mel Gibson struck and choked her after the concerned James Bond star noticed the mother of his child was bruised, RadarOnline.com has exclusively learned.
What's more, Grigorieva told her lawyer the Licence to Kill star will testify against Gibson in their case, according to correspondence obtained exclusively by RadarOnline.com.
Article continues below advertisement
The never-before-seen letter that Grigorieva sent to Eric George, the son of California's former chief justice, reveals the potentially damning evidence that prosecutors could use to charge Gibson with domestic violence.
It is evidence in the battery and extortion investigations into Gibson and Grigorieva, RadarOnline.com has been told.
Writing to George on June 3, 2010, Grigorieva noted "Tim" saw a bruise on her left eye after the Lethal Weapon star allegedly punched her in the head while she held their daughter Lucia, knocking two veneers off her front teeth.
"Tim saw a bruise on my left eye as well as Mady," 40-year-old Grigorieva said, referring also to her facialist and Dalton, who is the father of Oksana's teenage son Alexander.
"Both will testify," Grigorieva added, noting: "Facts and witnesses."
If Gibson is charged, Dalton's evidence would provide a stunning courtroom confrontation, after the Oscar-winning director was caught on tape unleashing a jealous rant against the British actor.
Article continues below advertisement
"Did you get my last message about me being a bad father and Tim being a great dad now?" Gibson asked Grigorieva in one tape, we first revealed.
Gibson added: "You didn't hear that one? Well, you should go f**k him now, you know, you fickle c**t, because I don't care."
Grigorieva's missive to George, an attorney she later fired, came a day after she informed him of her plan to walk away from a $15 million settlement to see "where the chips might fall" in a court battle with Gibson, 55.
Eighteen days earlier, George and his firm had negotiated the hush deal in exchange for the destruction of the secretly recorded rants.
The e-mails, texts and documents -- uncovered in a RadarOnline.com investigation -- reveal Grigorieva has also claimed:
A furious Gibson once flew from Costa Rica to "spy" on her;
During a jealous rage he even accused some of his own friends of hitting on her;
She admitted to her dentist Dr. Ross Shelden, who treated her after the January 6 incident, that Gibson attacked her;
She told two other doctors she was "hit by a man";
She emailed a lawyer the night Gibson allegedly attacked her;
She also telephoned three friends -- "Jimmy" and "Alicia and Robert Seidler" -- the same night, who advised her to call the police; and
She told "Jimmy" that Mel was "threatening to come and kill me".
While the Russian musician has battled repeated claims she has changed her version of events, the confidential correspondence obtained by RadarOnline.com establishes a level of consistency with Grigorieva's story.
Article continues below advertisement
As RadarOnline.com was first to reveal, in June last year, Grigorieva wrote a secret email to one of her lawyers detailing the beating Gibson inflicted on her in the hours after it happened.
"He hit me in the face with a fist and broke two of my front teeth, as well as he was choking me with his elbow and squishing my face down with the palm of his hand," she noted to her lawyer, shortly after midnight on January 7, last year.
It can now be revealed that attorney was Jeff Jacobsen, who is no longer working on Grigorieva's case against Gibson.
In her note to George, Grigorieva said the emails to Jacobsen "prove I was in danger and scared".
"All the detailed emails of the incidents of violence, pictures and all the correspondence, starting the 6th of January is evidence against the violator," she wrote.
"The night of the recording emails to Jeff were showing that I was scared and in fear and danger."
Article continues below advertisement
By documenting events soon after they happened, Grigorieva created powerful evidence supporting her claims that make her a victim of domestic violence, one law enforcement source told RadarOnline.com.
The correspondence (which contains several misspellings) Grigorieva sent George reads in full:
June 3, 2010, 8:54
Hi Eric, pls call me when u can.
I just need to write this before I forget.
This is what I found out about the Californias family court.
1. In cases of domestic violence smtimes the court does reward the
nights to the father, but only if it wasn't physical violence. The
opposition knows that and they din't want to go to court they were
threattenning me.
2. The violence toward the mother is concidered as violence towards
the children in her arms and in the room. That's 3 of us. They knew
it. The judge Black and the judge Romero said to me that was not the
Article continues below advertisement
case. That's not true.
They weren't telling me the truth. Why?
3. In our case the physical domestic violence will substantionally
deminish the castody from what it is now with out changes for at least
a few years.
4. The fact that the father is working and the mother is at home, as
full time mo is rewarded with more castody for the mom.
5. The relaitionship has ended becouse of mel's domestic violence,
based on his paranoia gelousy and volotility. He flew from costa rica
one time when I was suppose to have finner wth a old friend to spy on
me! He was very ashamed.
Yelled and aqused many of his friends of absurd gelousy suspition. Many
facts.
6. Tim saw a buise on my left eye as well as Mady (the facialist, how
asked me what it was and I told her). Both will testify. Facts and
witnesses.
7. Two doctors will testify, show pix of broken teeth and the
Article continues below advertisement
documentation of concation. I told them both I was hit by a man. I
told the dentist dr. Shelden that it was Mel.
8. On the night of the recording Mel I called Jimmy around or later, I
put Mel on the speajer so Jimmy could hear his madness. I told him I
was terrifyed in danger and need the place to stay with the baby that
mel is threatenning to come and kill me. He told me to come to his
place.
Then I called Alecia and Robert Seidler telling them the same thing,
they suggested to book me a hotel on their name so he can't find me.
They all told me to call the police! All of them will testify. It
proves that I was in great danger and recorded mel for the evidence.
9. evrything that I've send to Jeff Jacobson immidiately on the same
nights as the violence happened, prove I was in danger and scared. All
the detailed emailes of the incidents of violence, pictures and all
Article continues below advertisement
the correspondence, starting the 6 th of January is evidence against
the violator. The night of the recording emails to Jeff were showing
that I was scared and in fear and danger. All my correspondence with
him is collection of the evidence.
Pls call.
Prosecutors could decide as soon as this week whether to file criminal charges against Gibson.
A charge of domestic violence/corporal injury involving a former cohabitant is looming for the Oscar-winning actor/director, credible law enforcement sources have told RadarOnline.com.