Exclusive
EXCLUSIVE NEW AUDIO: Mel Gibson's Twisted Rant Includes Jealous Rage Over Timothy Dalton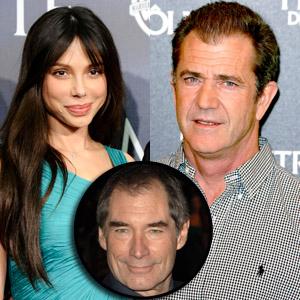 WARNING: This audio may not be reproduced or republished.
A seething, cursing and furious Mel Gibson rips into Oksana Grigorieva during a jealous rant about her ex-lover, former James Bond star Timothy Dalton.
It's captured on new audio obtained and released exclusively by RadarOnline.com. This is Number 7 in the headline-making series of tapes that have featured Gibson spewing racist insults, threats, profane tirades and more.
Article continues below advertisement
Dalton is the father of Oksana's 12-year-old son Alexander (nickname Sascha) and has been emotionally supporting her through her ordeal with Gibson, visiting her as recently as this past weekend.
In the new tape, furious Mel says: "Did you get my last message about me being a bad father, and Tim being a great dad now?"
Oksana, who does not fight back on the new tape, utters a barely audible "no," as Gibson continues to rant, hurling some of the most hateful language yet captured on audio.
"You didn't hear that one?" Mel continues. "Well, you should go and f*ck him (Dalton), you know, you fickle c*nt because I don't care."
Gibson's anger builds and he obscenely tells Oksana to go have sex with someone else in front of her son.
WARNING: This audio contains graphic and profane language. It has been left unedited so that the full impact of Mel's rant can be heard. RadarOnline.com has not altered this tape in any way.
Article continues below advertisement
radar_embed service=5min.com src=" http://pshared.5min.com/Scripts/PlayerSeed.js?sid=1126&width=480&height=270&playList=517715100&sequential=1&shuffle=0"
"The game's over," Mel yells. "Okay. The game's over. Let the new games begin so you can get it on with anybody else and your son can watch it.
"What is it? Number 45 he's going to have to look at? F*cking good."
After that repulsive diatribe, Gibson then tells her: "I'm so f*cking sorry I had a child with you."
Consistent with the other conversations released exclusively by RadarOnline.com, Gibson heaps profanity and verbal abuse on Oksana, again telling her that she's used him.
"I despise you," he says with fury in his voice. "I don't want you back. You have proven yourself to me. You're not the f*cking woman I want.
"You're a f*cking fake. You're a f*cking sham. You don't know what the f*ck it means to make a man happy. You didn't make me f*cking happy., I couldn't make you happy with the BEST I DID FOR ANYBODY, EVER! EVER," he yells. "You f*cking glum c*nt!"
Article continues below advertisement
EXCLUSIVE: Mel Texts Oksana After Fight: 'I Wasn't Safe For You'
The tape was recorded by Oksana in February as their relationship was imploding. As RadarOnline.com reported exclusively on Sunday, the couple held a tree-planting ceremony on Feb. 18 in honor of their daughter Lucia but things went badly wrong when Mel flew into a jealous rage and accused Oksana of "smiling too much" at one of the workers. At approximately 6 pm Oksana left Mel's Malibu mansion – for good.
On this newly released tape, Mel refers to the incident and yells: "You didn't f*cking crack a smile with the tree ceremony up there, NOTHING! What the f*ck do I have to do. And remember whose f*cking roof you're under! You ingrate b*tch!"
Mel attempted to quit smoking several times during his relationship with Oksana and often used that as an excuse for his abusive behavior. While this new argument is taking place he makes reference to his attempt to quit smoking.
Article continues below advertisement
With Oksana silent, Mel yells: "You f*cking ruined me!
"You f*cking ingrate! I'm so mad! I'm so angry! And this is NOT the nicotine, this is the truth! You f*cking don't love me one bit and you know it, you using b*tch."
Mel and Oksana's brutal battle is at the center of three investigations. The LA County Sheriff's Department is looking into charges that Mel beat Oksana on January 6. She has strong evidence supporting her injuries, which included damaged front teeth and a concussion.
Article continues below advertisement
Gibson denies hitting Oksana and his lawyers claim she tried to extort him. The Sheriff's Department is looking into that as part of their investigation.
Oksana walked away from a $15 million mediation-brokered settlement in May.
The tapes released exclusively by RadarOnline.com contain racist rants by Gibson and out-of-control profane outbursts that have shocked listeners.
At one point the Oscar-winner tells Oksana that she "f*cking deserved it" after she says he hit her.