Exclusive
EXCLUSIVE: Oksana's Proof: Her Secret Email To Lawyer Hours After Brawl With Mel Gibson - Read It Here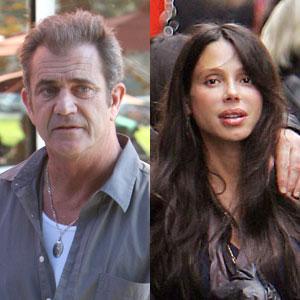 Oksana Grigorieva wrote a secret email to one of her lawyers detailing the beating Mel Gibson inflicted on her just hours after it happened, RadarOnline.com has learned exclusively.
The email is now evidence in the investigations into Gibson and is consistent with the story she told authorities months later, including her claims that the Lethal Weapon star punched her in the head twice while she was holding their two-month-old baby Lucia.
Article continues below advertisement
"He hit me in the face with a fist and broke two of my front teeth, as well as he was choking me with his elbow and squishing my face down with the palm of his hand," Oksana wrote her lawyer shortly after midnight January 7.
By documenting events soon after they happened, Oksana created powerful evidence supporting her claims that make her a victim of domestic violence.
While others have speculated that the Russian musician's story has changed as she negotiated a settlement with Gibson, RadarOnline.com has exclusively obtained proof that just hours after the incident at Mel's Malibu mansion, she wrote the detailed email to one of her lawyers revealing what happened on the night of January 6.
In what is surely to be damaging evidence against Mel, she wrote: "He even hit Lucia."
RadarOnline.com broke the story that authorities are investigating Oksana's claim Mel hit her while she was holding the baby, leaving a mark on the infant's chin.
We also published the photos of Lucia documenting the injury that are considered evidence in the case.
"He went completely violent while I was holding our two month old baby crying in my arms," she wrote to the lawyer.
Article continues below advertisement
Oksana wrote that after Mel hit her: "He yelled so loudly in my face for 15 minutes at least. I was trying to run away outside, begging him to stop."
She told him he would make their baby sick, Oksana said.
"He yelled even louder and kept spitting in my face," she wrote to her lawyer, according a source familiar with the investigation.
"Then he kicked us out yelling and screaming."
Oksana pleaded for help and said she was scared for the safety of her children.
"I'm asking for your help. I don't know what to do right now. The scariest thing is the safety of my children," she wrote.
RadarOnline.com learned exclusively that she also was afraid Mel would use his power, money and influence to take their baby.
She wrote to her lawyer: "He also threatened to take Lucia away from me, because he can. Because he has money!
"I'm not sure what to do. He is a father to my Lucy. But I have forgiven so much that he probably thinks I'll just take it."
Article continues below advertisement
She then begged the lawyer to call and wrote: "I'm lost."
The email is evidence in the multiple investigations into her conflict with Mel, including the custody battle that is being waged behind a closed courtroom door.
Oksana wrote that the incident was prompted in part by Mel quitting smoking for the 7th or 8th time since she knows him.
"When that happens, he turns into an ax murderer, as he calls it himself," she said.
She then detailed how she was at a basketball game and Mel scared the babysitter.
She called him a "psycho" and described how she asked him not to make so much noise.
But Mel began screaming and Oksana wrote: "He is seriously scaring both of my children, especially Lucia."
The email is part of the evidence Oksana accumulated and turned over to authorities to support her charges that Mel battered her.
RadarOnline.com exclusively published photographs showing her damaged mouth and photos showing bruising around her left eye.
Article continues below advertisement
In addition, her dentist has provided an affidavit that strongly documents her injuries and the amount of force required to inflict them.
We broke the story that Oksana visited her doctor January 8 and was diagnosed with a concussion.
Mel is being investigated for child abuse and domestic violence charges by the LA County Sheriff's Department, who are also investigating Mel's claims that Oksana tried to extort him.
The Department of Children and Family Services is also investigating Mel and the former couple's custody battle still rages.
The existence of the January 7 email proves that Oksana's story has been consistent since the events of January 6 and also that she didn't suddenly "invent" charges against Mel to extort him, as some reports have suggested.
"Mel and Oksana were still together after this," one source told RadarOnline.com.
"She didn't want to break up with him. She was deeply upset but still wanted to stay together.
"She was still in love with Mel. That's why she didn't call the police -- and their relationship continued after this."