AUDIO: J.Lo Speaks Out About Crying On American Idol: 'It Was Really Hard'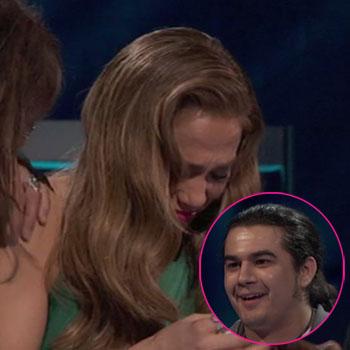 Jennifer Lopez is no Simon Cowell.
The Jenny On The Block singer turned American Idol judge told Ryan Seacrest on his radio show Thursday that eliminating Chris Medina, the Illinois barista with a touching backstory, "was really hard" for her to do on Wednesday.
VIDEO: J.Lo Breaks Down Crying After Booting Chris Medina Off American Idol
On Wednesday, Lopez broke down in tears after she had to break the bad news to Medina, 26, whose fiancée Juliana is confined to a wheelchair and brain damaged after an October 2009 auto accident.
Article continues below advertisement
"After he left it really hit me -- I just couldn't believe I had to deliver this new to someone who's been through enough," she said.
Medina, for his part, turned in a pair of decent performances on Wednesday's episode, but didn't make the cut, causing an upset Lopez to tell him, "It honestly breaks my heart to say this, but you did not make it into the top 24."
After she gave him the heave-ho, Lopez broke down crying, saying "I just don't feel like I told him in the right way," and Tyler and Jackson reassured her she gave Medina a soft landing.