VIDEO: J.Lo Breaks Down Crying After Booting Chris Medina Off American Idol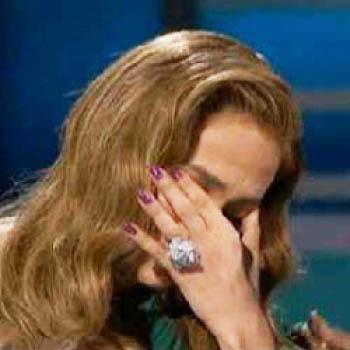 Randy Jackson, Steven Tyler and Jennifer Lopez searched for the next American Idol in Las Vegas on Wednesday's show, where their job was to narrow the herd of 61 hopefuls down to 40, which would then be trimmed to 24 as the show returns to Hollywood and takes on its' normal weekly format.
The contestants were challenged with Beatles songs Wednesday, which made for some excellent showings from hopefuls like Jacob Lusk, Haley Reinhart and Naima Adedapo, who performed The Long and Winding Road; and Tim Halperin and Julie Zorilla, who turned in a smooth rendition of Something.
Article continues below advertisement
The story of the night, however, was who didn't make it in: Chris Medina, the 26-year-old barista from Oak Forest, Illinois who stole America's heart with his wrenching backstory, singing for his fiancée Juliana, who's confined to a wheelchair and brain damaged after an October 2009 auto accident.
Medina, for his part, turned in a pair of decent performances with the Beatles' A Hard Day's Night and Coldplay's Fix You, but couldn't not crack one of the coveted top 24 spots despite his talent and backstory.
Watch the video on RadarOnline.com
"It honestly breaks my heart to say this, but you did not make it into the top 24," a teary J.Lo said.
After she gave him the heave-ho, Lopez broke down crying, saying "I just don't feel like I told him in the right way," to which Tyler and Jackson reassured her she gave Medina a soft landing on his way out.
American Idol airs Wednesday and Thursday at 8/7c.
RELATED STORIES: