EXCLUSIVE: JLo's Grammy Emergency! Paramedics Rushed To Her Aide After She Stabbed Her Leg With Her High Heels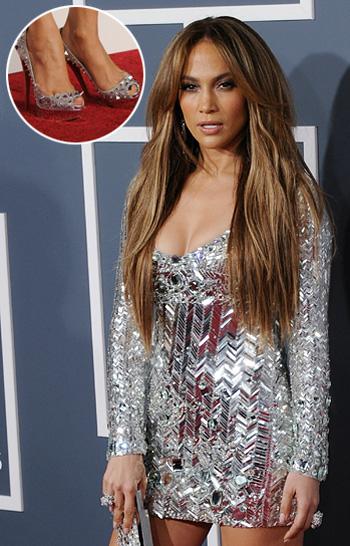 Jennifer Lopez learned that beauty really is pain when her spiky Christian Louboutin's punctured her left ankle and drew blood during the Grammy Awards in Los Angeles on Sunday.
"Paramedics got a frantic call to rush to JLo's dressing room," a Staples Center source told RadarOnline.com exclusively.
"Her stylist was freaking out because Jennifer accidentally punctured herself with one of the many spikes on her shoes. It was a small puncture, but the blood wouldn't stop and J-Lo still had to present an award."
Article continues below advertisement
According to the source, EMT's rushed in and applied some antiseptic, slapped a Band-Aid on it and the new American Idol judge was good to go - designer heels and all.
"What could have been a major diva meltdown was diffused," the source said.
This isn't the first time J-Lo has had bad luck with Louboutin's at an awards show.
As RadarOnline.com previously reported, the singer was in the middle of her 2009 American Music Awards performance sporting custom-made Louboutin heels when she jumped off of a backup dancer and landed on her butt instead of her feet.