VIDEO: Jennifer Lopez Reduced To Tears On American Idol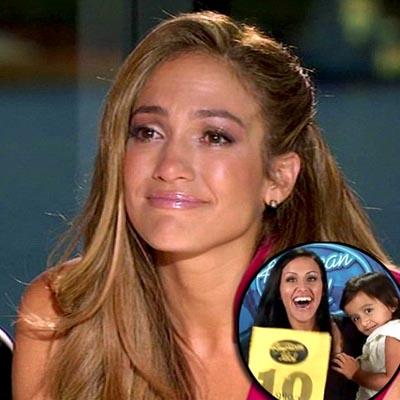 Superstar Jennifer Lopez was reduced to tears on American Idol Thursday night as she listened to Paris Tassin perform on the hit Fox show.
Paris, a 23-year-old stunning single mom from New Orleans, told the celebrity panel that she was performing for her 5-year-old daughter, Kiera who was born with a condition called Hydrocephalus -- commonly known as "water on the brain."
PHOTO: Jennifer Lopez Tweets Pic Of Herself In Front Of Her Own Billboard
Article continues below advertisement
The Medical Assistant had her daughter when she was only 18, and despite warnings from her doctors that the child might not survive, she decided to have her anyway.
In a taped piece prior to her audition, Paris said Keira suffers from hearing loss, wears hearing aids, and had other medical issues as well.
"She's the best thing that ever happened in my life, and I'm singing this for her," Paris said.
And her rendition of Carrie Underwood's Temporary Home really hit the right notes with JLo, Steven Tyler and Randy Jackson.
After her performance a teary -eyed Lopez said: "When you sang, I felt it. I really felt it. It brought tears to my eyes."
All three judges put the single mom through to Hollywood as she tries to pursue her dreams by giving her daughter a better life in the process.
A delighted Paris was then seen leaving the audition clutching her golden ticket to tell her daughter and family the good news.
Article continues below advertisement
Other strong performances came from 21-year old piano teacher Jordan Dorsey who performed Somewhere Over The Rainbow and 15-year-old Jacee Badeaux who sang Ottis Redding's Sitting On The Dock Of A Bay.
But it was single mom Paris who stole the night, and Idol producers will be hoping that they can unearth more talent like her as viewing figures are down from previous seasons.
Figures show that 26.1 million people saw Idol's two-hour season premiere on Wednesday night. While American Idol was the number 1 show on TV Wednesday, the season 10 premiere was Idol's lowest rated premiere in 9 years and down 13 percent from the 29.9 million who saw last season's opener.