PHOTO: Jennifer Lopez Tweets Pic Of Herself In Front Of Her Own Billboard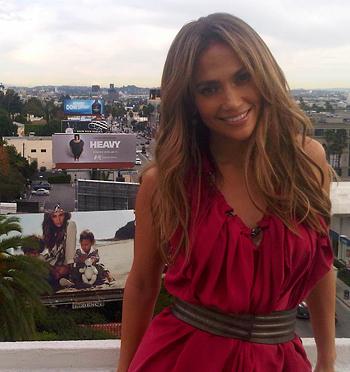 Jennifer Lopez is a fan of Jennifer Lopez. The new American Idol judge shared with her followers a picture of herself on a Los Angeles balcony overlooking her very own billboard, and RadarOnline.com has the Twitpic.
The giant Sunset Blvd. billboard is an ad for the new Gucci Children's Collection. It shows JLo and her twins, Emme and Max, dressed in their Gucci finest while sitting on a Malibu beach.
Article continues below advertisement
Jenny from the Block tweeted: "Quick pose after lunch..and check the background! ;-)" referring to the billboard seen over her shoulder in the pic.
The mega-star is in great spirits, definitely enjoying her new role as an AI judge, and she thinks the talent show will do just fine minus Simon Cowell when it returns to Fox January 19.
"We're more of a collaborative judging group. We're always leaning over to each other and saying, 'Oh my God, I think she's good,' Lopez told Entertainment Weekly. "We discuss things. We just have a totally different style than any of the past judging tables."