NEW BOOK: American Idol Secrets Exposed: Heavy Drinking, Kelly Clarkson's Suspected Love Triangle & More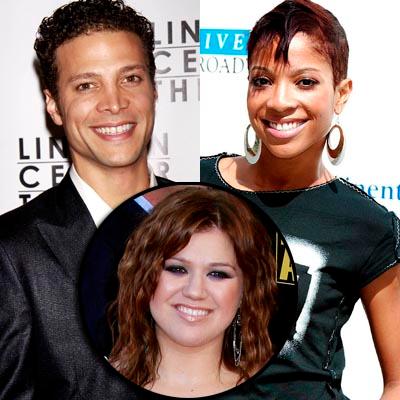 Pop star Kelly Clarkson may have been involved in a secret love triangle with fellow Idol contestants Justin Guarini and Tamyra Gray, according to a tell-all new book spilling the secrets of one of America's most successful television shows.
In American Idol: The Untold Story, which hit bookshelves on Wednesday just hours before the 10th season of the show premiered on Fox, author and entertainment columnist Richard Rushfield suggests that Season One's contestants were bed-hopping years before the Jersey Shore cast made it a reality-show staple.
Article continues below advertisement
The Since You've Been Gone singer gave a not-so-subtle insight into the suspected cheating scandal on her first hit album in a song titled, You Thought Wrong, that she co-wrote with love rival Tamyra. In the duet, the girls sing the line, "Boy, your cover's blown," which Rushfield suggests is aimed at Justin.
Heavy drinking was rampant during the first season, mostly around flame red-haired rocker Nikki McKibbin, who scoured the streets of Hollywood looking for sushi bars to knock back shots before going on stage, and hid bottles in her hotel room.
Article continues below advertisement
When her dreams of being a star dissolved, Texas native McKibbin gave into her demons years later when she became addicted to cocaine and hard drugs. A stint in hospital and a psychiatric ward in 2008 led to Nikki being cast on VH1's Celebrity Rehab and Sober House, and her eventual sobriety.
Troubled McKibbin also talks to the author about judge Simon Cowell's backstage behavior. During one memorable encounter, "He told me that my eyes were beautiful and he wanted to take my eyeballs out of my head and put them on his nightstand so that he could look at them every night before he went to bed, and I pretty much in a nutshell told he was a perv and kind of creepy," McKibbin claims in the expose.
"He was never nice to me after that."
VIDEO: Steven Tyler Says Snorting Sleeping Aid Caused Him to Fall Off Stage
Rushfield downplays speculation that voting on the show is rigged, writing: "The question whether Idol is 'fixed' remains the subject of perennial rumors and Internet theories; talk of busy signals, crossed numbers and changed vote totals circulates endlessly. To date, nothing in any of these rumors has produced anything that smacks of actual vote fraud."
He does however tell how the hotness factor in Season Two was forcibly amped up by adding a Wild Card round at the last minute because the contestants going through from Hollywood week were too ugly. "To put it bluntly, the producers worried about the distinct lack of hotties in the group," writes Rushfield. "Was there enough sex appeal to keep the audience interested?"
Hot young blondes, Kimberly Caldwell and Carmen Rasmusen, and sexy Treynce then all conveniently qualified from the newly-added round!