American Idol's Alex Lambert Clarifies He's Not Quite Homeless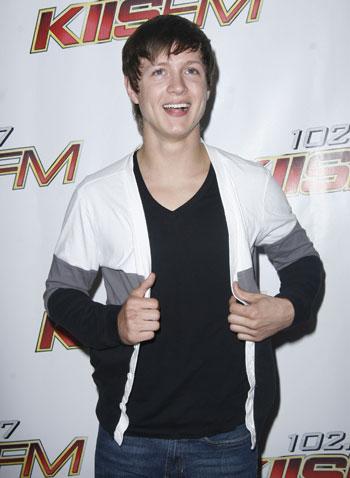 Former American Idol contestant Alex Lambert shocked fans Monday when he began Twittering that he is homeless and has been sleeping on the streets. Now a rep from Lambert's record company, 19 Entertainment, is striking back at those claims saying the aspiring singer is on retainer and looking for an apartment – not homeless.
RadarOnline.com has learned the truth is somewhere in between.
Lambert, who made it to the Top 16 round of Idol before being eliminated last spring, started getting attention from media outlets and worried fans when he Tweeted:
Article continues below advertisement
"Ever since IICD (If I Can Dream) ended I've been kinda homless! Sleepin' on the street and behind buildings. I have a choice to stay and persue my career or go back to texas and not do music! I'm usually a strong person but I can't take it anymore. I've been goin to coffee shops and other stores so I can tweet to my snaf! Because to be honest! You guys are all I really have!"
VIDEO: Steven Tyler Says Snorting Sleeping Aid Cause Him To Fall Off Stage
The 20-year-old went on to add, "I'm a poor boy yall! Never had nothin' in my life. please be greatful for everything you have. Because there's people out there with nothing! I just want my fans to know that I'm not an American Idol type person!"
But on Tuesday, Lambert was singing a different tune when he took to his Twitter again to address what he calls as "miscommunication" and reassured his fans, this wasn't a publicity stunt.
Article continues below advertisement
"I have money! And soon I will have a place to stay! I just wanted to let yall know! I'm not some rich spoiled kid! That I've had to hustle and grind and I don't mind sleepin' on the street as long as I get my chance! Because I will not take it for granted! I hope yall understand," adding, "Sorry for the miscommunication;) I'm just fine! MAHALO!"
"I know alot of people think I tweeted my living situation for publicity! But I don't give a damn about fame! I don't give a damn about money either! I have never had any and I've been just fine! The money that I was makin' and have made I have sent home for my Mother and my 3 broke ass brothers sleepin' on the ground! I just wanted the people that loved me to know what was really goin' on I'm real! And I don't lie! and I would never lie to yall! (yall being my supporters who got my back through thick and thin) F**k yeah I was sleepin' outside! That shit sucks too! I'm goin back home to get my shit together! But I will be back! And I'm comin' strong! LETS DO THIS!"
PHOTO: Jennifer Lopez Tweets Pic Of Herself In Front Of Her Own Billboard
In a statement to the Hollywood Reporter, a spokesperson for 19 Entertainment says Alex is not homeless. "He's been crashing on friends' couches while looking for an apartment, but he's getting a retainer and working on demos."
Lambert signed a development deal with 19 Entertainment shortly after his American Idol elimination. The company is currently sifting through songs submitted specifically for Lambert.