PHOTOS: The Hottest Armed Bikini Babes In Hollywood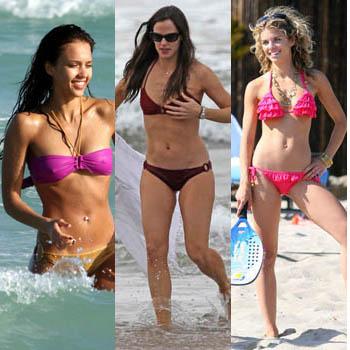 Booties, boobs, abs and legs aren't the only body parts that stars show off in their barely there bikinis. From bigscreen bombshells to sizzling hot supermodels, RadarOnline.com has photos of the most amazingly armed bodies, stripped down into their skimpy swimsuits. Click the next sentence to see the hottest armed bikini babes in Hollywood.
Click Here To See The Hottest Armed Bikini Babes In Hollywood
Article continues below advertisement
Jennifer Aniston has one of the most figures in Hollywood, equipped with a gorgeous set of guns. The former Friend keeps her arms amazingly chiseled through her devoted workout regiment, and loves to show off all of the hard work in her collection of bombshell bikinis.
Click Here To See Jennifer Aniston's Amazing Arms
Don't try and arm wrestle with these sexy bikini babes! Jessica Alba, Jessica Biel and Jennifer Garner get paid the big bucks to kick butt on the bigscreen, so it isn't surprising that the beauties have rock hard arms.