Sarah Palin Crosshairs Map Controversy Still Rages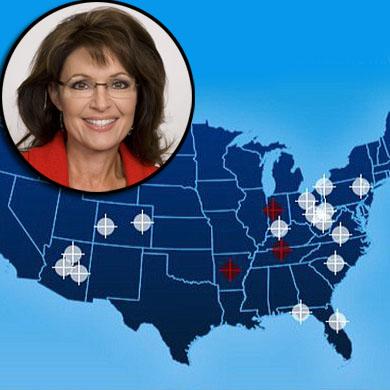 Sarah Palin's infamous map, targeting the 20 Congressional candidates she wanted defeated last November, is causing a firestorm of controversy in the wake of the Tucson shooting rampage.
As RadarOnline.com has been reporting, Palin posted a map on both her PAC (Political Action Committee) website and her own Facebook page. It detailed the 20 Congressional districts with Democratic Representatives who had voted for healthcare reform. What appeared to many to be crosshairs marked each location; it included a list of the Representatives names.
Article continues below advertisement
One of those was Congresswoman Gabrielle Giffords who was shot in the head Saturday and is fighting for her life.
Immediately after the list was posted, the front door of Giffords' office in Tucson was smashed.
Asked about Palin's map, Giffords said at the time, "When people do that, they have to realize there are consequences to their actions."
Palin's team has been on the defensive since the shooting. "We never, ever intended it to be gun sights," Palin staffer Rebecca Mansour said Sunday.
VIDEO: Sarah Palin Goes Hunting On Her TLC Show
But following the November elections, Palin herself Tweeted,
"Remember months ago 'bullseye' icon used 2 target the 20 Obamacare-lovin' incumbent seats? We won 18 out of 20 (90% success rate;T'aint bad)."
Giffords was one of the two on the list who won re-election.
Neither the police or FBI are saying if Jared Lee Loughner had ever seen Palin's map or was in any way motivated by right vs. left wing politics.
Article continues below advertisement
It has people on both sides of the debate talking.
"The hard left is going to try to silence the Tea Party movement by blaming us for this," Tea Party founder Judson Phillips said on Sunday. "The left is coming and we hit us hard on this. We need to push back harder."
Pima County Sheriff Clarence Dupnik, whose deputies were among the first responders to the tragedy, just wants everybody to calm down.