NEW DETAILS IN CONGRESSWOMAN SHOOTING: Shooter Posted 'I'll See You On National TV' & Police Find 'Person Of Interest'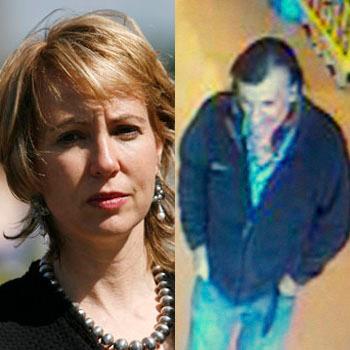 UPDATE: The manhunt is over for the "person of interest" in the Tucson shooting. The Pima County Sheriff's Department has located the man, questioned and released him. He is a cab driver, who had driven Jared Lee Loughner to the Safeway, and then walked into the store with him because the suspected shooter needed to get change to pay his fare.
Police are now hunting for a second man, described as a "person of interest" in the shooting of Congresswoman Gabrielle Giffords and new details have emerged indicating the alleged shooter may signaled his destructive intent with online postings, RadarOnline.com has learned.
Article continues below advertisement
Twenty people were shot, six of them killed, in Tuscson, Arizona on Saturday in a sudden act of violence that has stirred debate about superheated political rhetoric and caused President Obama to dispatch the head of the FBI to oversee the criminal investigation.
Jared Lee Loughner is now in the custody of the FBI and identified as the shooter. Authorities are searching for a second man who they say was at the scene and is a person of interest.
The 'person of interest' is a white male, approximately 40 to 50 years old with dark hair. He was last seen wearing blue jeans and a dark blue jacket. The photograph was released by the Pima County Sheriff's office and taken from a surveillance video camera at the shopping center.
Meanwhile more of Loughner's bizarre online postings have been uncovered in the aftermath of the tragedy. One of the most disturbing read: "WOW! I'm glad i didn't kill myself. I'll see you on National T.v.! This is foreshadow .... why doesn't anyone talk to me?.."
Article continues below advertisement
That was posted in mid-December, about the same time as his bizarre videos were posted, according to the Arizona Republic. He also posted: "I don't feel good: I'm ready to kill a police officer! I can say it."
Giffords, 40, was shot in the back of the head. But she emerged from heavy sedation Sunday morning and a medical spokesperson said she was able to follow commands, a very good sign, according to her doctors.
One hero who emerged from the order is Daniel Hernandez, a 20-year-old intern in Giffords' office. He rushed to help her and tried to keep her stable until paramedics arrived.
"I don't know how much time it took, Hernandez said in an ABC-TV interview Sunday. "It seemed like it took an eternity, but that's just because of the way that the events were unfolding, because I was trying to make sure that I was holding the congresswoman so that she could still breathe well, but also make sure that I was holding her wound so that she didn't -- so that she was in good enough condition to be able to be transported by ambulance to a hospital."
Article continues below advertisement
The alleged shooter was suspended from Pima Community College, in Tucson on September 29, 2010 after campus police had contact with him five times. Classmates described his behavior as bizarre and the school said he agreed to withdrew from the college on Oct. 4.
Administrators met with Loughner and his parents and said he needed a certificate that "in the opinion of a mental health professional, his presence at the College does not present a danger to himself or others" in order to come back to school.
It is not known if Loughner underwent a mental health evaluation, but he was able to purchase a Glock 19 with an extended clip, capable of holding 30 rounds of 9 mm ammunition. He bought the gun at Sportsman's Warehouse in Tucson on Nov. 30, law enforcement officials said.
A classmate of his from high school described him as a left wing liberal, via a series of Tweets.
Caitie Parker began Tweeting on Saturday that she knew Loughner, and the Phoenix New Times confirmed she was his high school classmate. Parker Tweeted she hadn't seen him in three years and wrote, "the guy I knew 3 years ago isn't the evil he became today." She also said she was in a band with him.
Article continues below advertisement
She also said Loughner claimed to have met Giffords previously and described the Congresswoman as "stupid and unintelligent."
Parker said Loughner became "reclusive" in 2007 after getting alcohol poisoning and dropping out of college. You can view her Tweets here.
A MySpace page believed to be Loughner's was taken down quickly after he was identified as the gunman. That page had a "Goodbye friends" message published hours before the shooting. It also asked his pals: "Please don't be mad at me."