REPORT: Sarah Palin Pulls The Plug On Her Reality Show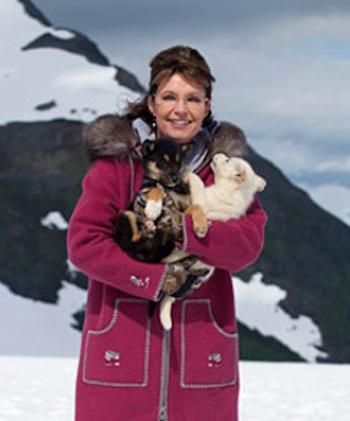 They'll be no more Alaska for Sarah Palin, at least not on camera for her reality show, RadarOnline.com has learned.
The former Alaska governor and VP candidate has decided against a second season of her TLC series, Sarah Palin's Alaska, reports Entertainment Weekly.
The show was a hit for TLC, with an average 3.2 million viewers per episode but with Palin considering a 2012 presidential run, she may have thought the show would be a distraction.
Article continues below advertisement
VIDEO: Kate Gosselin Goes Camping With Sarah Palin & HATES It
The news comes on the same day that Palin was back in the headlights -- is she ever out of them? -- after Congresswoman Gabrielle Giffords was shot and critically wounded in Arizona. Giffords had been listed on Palin's highly controversial "Crosshairs Map," targeting Representatives with a "Don't Retreat, Reload" message prior to the elections last November.