EXCLUSIVE: Teen Mom Amber Portwood Breaks 'No Contact Order;' Communicating With Ex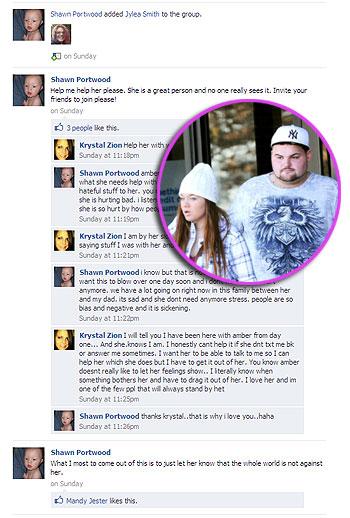 Teen Mom star Amber Portwood has been court ordered not to have any communication with her ex-fiancé and baby daddy Gary Shirley, but as evidenced by the screen grabs of a new Facebook page obtained by RadarOnline.com, the two have been talking.
The page was created on Sunday by Amber's older brother, Shawn Portwood, who named it "Help Amber Portwood" and says in the description of the page, "She has feelings and emotions and hearing her cry because everyone hates her breaks my heart.
Article continues below advertisement
READ THE COURT DOCUMENT HERE
"MTV (RTV) is poisoning peoples minds with this non-sense and the narrow minded, bias people are supporting them by watching these shows. Do something with your life besides siting sic on a couch watching Teen Mom or Jersey Shore and please just leave Amber alone."
Amber's cousin Krystal Zion joined the group and during an open wall conversation with Shawn, the two insinuated that Gary and Amber have been communicating.
"Help me help her please. She is a great person and no one really sees it. Invite your friends to join please!" Shawn wrote.
"Amber is so hurt by everything going on. You know what she needs help with. I was with Gary last night and he said some hateful stuff to her. You need to stand by your cousins side because she is hurting bad. I listened to her cry tonight for like 30 mins because she is so hurt by how people are to her."
Article continues below advertisement
Krystal replied: "I am by her side 100 percent... And when Gary was saying stuff I was with her and saying stuff back."
A source close to the Teen Mom stars confirmed to RadarOnline.com that Gary was in Tennessee over the weekend visiting Amber's brother, Shawn.
In the 'No Contact Order' obtained by RadarOnline.com it clearly states, "The defendant is ordered to have no contact with Gary Shirley in person, by telephone or letter, through an intermediary, or in any other way, directly or indirectly, except through an attorney of record, while released from custody pending trial."
As RadarOnline.com was first to report, Gary has been fighting against the 'No Contact Order' and attempted to get it lifted so he can see and talk with Amber again, but was denied by an Indiana judge.
In December 2010, Amber, 20, was charged with three counts of domestic battery and one count of neglect of a dependent by the Madison County Prosecutor's Office and spent the night in jail after turning herself in.