EXCLUSIVE: Scorned Wife Says Judge Was Biased In Fantasia/Married Lover Court Case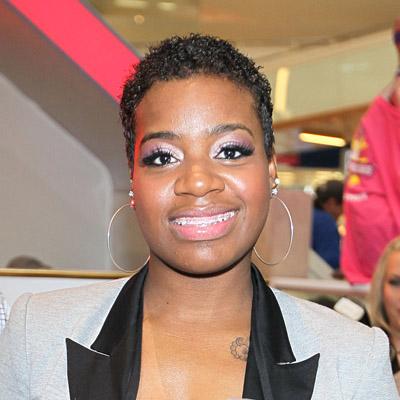 The scorned wife of a man who impregnated Fantasia is appealing a North Carolina judge's ruling that she was separated from her husband at the time he started an affair with the American Idol star, RadarOnline.com has exclusively learned.
In court documents obtained by RadarOnline.com, Paula Cook argues Judge Paige B. McThenia should have disqualified herself from the case because Fantasia's lawyers once represented the judge in her own divorce case.
Article continues below advertisement
EXCLUSIVE DOCUMENT: Read Paula Cook's Complaint
Last month, Judge McThenia found in favor of Fantasia's lover Antwaun Cook, suggesting he was indeed separated from Paula at the time of their romance.
"Judge McThenia was represented by the law firm of Horack Talley in a domestic action," Cook's attorney Tamela T. Wallace wrote in the documents, filed in Mecklenburg County, North Carolina.
"As of the date of the filing of this Motion, Judge McThenia has never disclosed the existence of her representation by Horack Talley.
"Consequently, Plaintiff (Cook) was not apprised of the length of the representation, the scope of the representation, and/or whether the representation continues currently.
"Judge McThenia's failure to disclosure the existence of her relationship with Horack Talley has deprived Plaintiff of the opportunity to make a reasonable inquiry as to whether cause of her disqualification exists."
Fantasia became the center of a cheating scandal when she famously got the name "Cook" tattooed on her collarbone in honor of her Antwaun.
Article continues below advertisement
The American Idol alum attempted to kill herself in August, 2010, by taking an overdose of aspirin after reading a court complaint filed by Paula, which named her as a home wrecker.
Paula wanted to sue Fantasia, 26, over the unique Alienation of Affection law -- where an abandoned spouse can file a lawsuit against the party responsible for the failure of their marriage, typically the adulterous spouse's lover.
But Judge McThenia's ruling all but ended any chance Paula had to do so.
In their court filing, Cook's lawyers argued: "Judge McThenia has unnecessarily intertwined the issues related to this case with the issues contained in the potential litigation between Plaintiff and Ms. Barrino.
"As a result, it is impossible to ascertain whether her rulings are motivated by an impartial interpretation of the application law or a desire to influence the potential litigation in favor of Ms. Barino."
Article continues below advertisement
Cook cites the North Carolina Judicial Code of Conduct in support of her motion, which states "... A judge should disqualify himself in a proceeding in which his impartiality may be reasonably questioned."
"Upon information and belief, Judge McThenia has a disqualifying conflict which should have been disclosed upon being assigned to this case," Cook's filing said.
"Disclosure of the disqualifying conflict would have afforded the parties an opportunity to determine whether they believed her potential disqualification was immaterial and/or insubstantial in writing."
During her testimony in court, Fantasia admitted she aborted Antwaun's baby, around the same time as her failed suicide bid.
In an email obtained by RadarOnline.com, Fantasia seemed to admit she knew Antwaun was still living with his wife when they started dating.
Article continues below advertisement