EXCLUSIVE PHOTOS: Teen Mom Gary Shirley's New Girlfriend -- His Daughter Calls Her 'Mommy'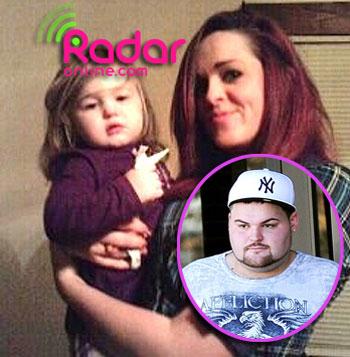 Little Leah — the two-year-old whose Teen Mom mother Amber Portwood is facing possible jail time — has become so close to her dad's new girlfriend, Autumn Jones, she is calling her mommy!
"Leah has become really attached to Autumn," a source close to the situation told RadarOnline.com.
"Amber's never around and doesn't spend quality time with Leah, so she's latching on to someone that makes her feel secure, and Autumn's a good girl."
Article continues below advertisement
Amber's ex-fiancé, Gary Shirley, has been quietly dating Autumn for nearly a month and not only is she playing second mother to Leah, but she has one-year-old daughter of her own named Kalaya.
"We've been on four dates; twice to IHOP, once to Texas Roadhouse, and then we went to the movies and stuff. He's a total gentleman and has paid every time," Autumn told RadarOnline.com, in an exclusive interview.
"But we hang out like five times a week and every time Leah is there I spend time with her. We usually just hang out at his house and watch movies. He says that we can get to know each other better that way."
As RadarOnline.com was first to reveal, Gary and Amber have been communicating with each other despite a court ordered 'No Contact Order' that prohibits them from doing so.
In December 2010, Amber, 20, was charged with three counts of domestic battery and one count of neglect of a dependent by the Madison County Prosecutor's Office and spent the night in jail after turning herself in, resulting in the 'No Contact Order.'
Article continues below advertisement
"I know he loves Amber, and he knows I love my baby's father, so either way about it in the end if he ends up with Amber, I wouldn't be mad," Autumn said.
"He likes me a lot but he just doesn't want to get hurt again, so we're just hanging out taking things slow."
According to the source, Autumn is nothing like Amber and has a great head on her shoulders.
"She's 23-years-old and goes to Ivy Tech where she's studying Criminal Justice," the insider said.
Although Autumn tells RadarOnline.com she's not sure where her relationship with Gary will go, she's enjoying the time she gets to spend with him and Leah.
"Gary is an amazing guy. He's definitely fun, and when we're together we have an amazing time," she said.
"Honestly if you ask me, Amber is dumb because she is not going to find anyone that will treat her better than Gary. He is honestly a sweet heart."