Exclusive
EXCLUSIVE INTERVIEW: Bill & Giuliana Rancic: 'We Can't Live Next Door To Lindsay Lohan!'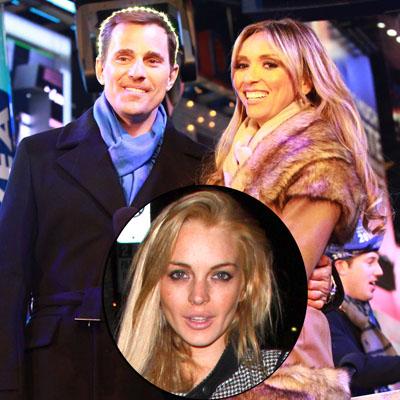 Reality show couple Bill and Giuliana Rancic are shopping for new digs in Los Angeles, and nearly found an unlikely neighbor in Lindsay Lohan, RadarOnline.com has learned.
"We were with a realtor this weekend and there was a new listing and I thought, 'This address sounds really familiar,' and it was the same street where Lindsay has moved to," Giuliana told RadarOnline.com in an exclusive new interview.
Article continues below advertisement
"I was like, 'We cannot live there!' I don't want to be across from Lindsay, and all that insanity that goes along with her life.
"The last thing I need is to live across from Lindsay Lohan and Sam Ronson. Talk about being up all night and paparazzi and alarms going off... I can't."
According to the star of The Style Network's Giuliana & Bill, Lohan is in a much better place after her latest stint in rehab at The Betty Ford Center, even though she's still not the ideal candidate for a neighbor.
"I had some friends (visit) with her over the weekend, and they've never, in all the years they've known her, been so optimistic about her," Giuliana said about the Mean Girls star.
"They said she seemed more put together, more happy. Her skin was great, her hair was pretty and she didn't look tired. They said she looked better than ever."
As RadarOnline.com previously reported, Lohan moved to a new house in Venice this week after finishing her court-appointed rehab treatment for a probation violation when she tested positive for cocaine during a random drug test in September.
Article continues below advertisement
Speaking of put together, Rancic is busier than ever hosting E! News, starring on the Style Network reality show with her Apprentice-winning husband Bill and recovering from two failed attempts at in vitro fertilization - as well as marking the launch of her brand new website FabFitFun on Wednesday.
"I started it because a lot of people followed me on Twitter and I think the reason I got so many followers is because I actually answered people's specific questions. I don't talk about pop culture stuff as much as about diet, lifestyle and fitness and women want takeaway," Rancic explained to RadarOnline.com.
VIDEO: Giuliana Describes Miscarriage Heartbreak
"I decided to start the site and we do a daily newsletter and we email people every day. I don't have 'doctor' before my name... I just like to give girls good information.
"Being in this environment in Hollywood, we're privy to so many diets and cleanses and tips and beauty secrets that people aren't privy and it's really nice to be able to share that with people."