EXCLUSIVE: Lindsay Lohan Reunited With Dad Michael - First Time In 7 Months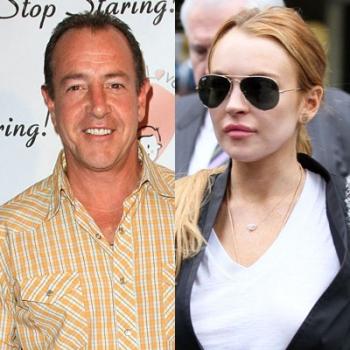 Lindsay Lohan has reunited with her estranged father Michael at the Californian rehabilitation clinic where she is receiving treatment for drug addiction, RadarOnline.com has exclusively learned.
"It was an emotional reunion… there were hugs, kisses and even a few tears when Michael and Lindsay first saw each other," a source with knowledge of the meeting revealed to RadarOnline.com.
It is a stunning and dramatic turnaround for the 24-year-old Hollywood wild child, who has perpetually blamed her one-time drug addict dad for her problems.
Article continues below advertisement
The pair met soon after 1pm on Sunday at the Betty Ford Center in Rancho Mirage, California, we're told.
"Lindsay met Michael at Betty Ford and the pair spent hours together... it was not a fleeting encounter, this appeared well-planned in advance," the source said.
"They also went shopping at a local Palm Desert mall, where they were seen walking around together and at one point, were in a jewelry store."
When RadarOnline.com contacted the Lohan patriarch for comment about the encounter, the 50-year-old dad-of-four remained tight-lipped: "I have pledged not to comment about anything relating to my daughter.
"However, what I will say is that I am an incredibly proud father tonight. My daughter is progressing extraordinarily well."
A source close to the actress told RadarOnline.com that her father's visit was at her invitation, while her mom, Dina, was back in New York preparing to appear on NBC's Today Show.
Article continues below advertisement
"Michael turned up at Betty Ford with some gifts and items for Lindsay," said the source.
Bizarre Video: Tila Tequila Bashed At Birthday Bash
It was the first time father-and-daughter had been in the same room since Michael showed up at Linday's apartment in April with the Los Angeles County Sheriff's Department.
At the time, a livid Lindsay took to Twitter to dismiss Michael's dramatic cop call as the work of a "pathological liar".
She Tweeted: "When will it ever end... it's been going on my whole life with him - hasn't he caused enough pain?"
Previous to that clash, Michael hadn't spoken face-to-face with Lindsay since August, 2009, around the same time that her Hollywood home was broken into and he helped her move into a new apartment.
Lindsay has said her problems with cocaine, booze and pills got worse when Michael started talking to the media about his daughter, in 2007.
Article continues below advertisement
She blasted: "I think my biggest focus for myself is learning how to continue to get through the trauma that my father has caused in my life."
FIRST PHOTO: Lindsay's First Rehab Shopping Trip
After completing about five weeks of rehab at Betty Ford, RadarOnline.com has learned Lindsay will undergo therapy with Michael, in an attempt to get to the bottom of the bad feelings she has toward her father.