Probation Report: Lindsay Lohan Feels Powerless About Being An Addict, Says She's Broke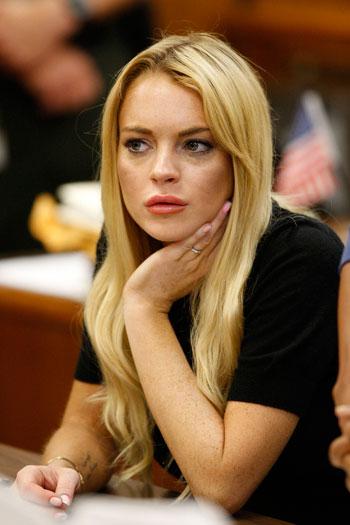 Lindsay Lohan's probation report says the actress admits to feeling powerless about being an addict and that she needs to work on her issues to save her life.
The powerful report was prepared by Lindsay's probation office, contains information from several of her caregivers and gives strong insight into what the troubled actress has been dealing with.
DOCUMENT: Read Lindsay's Probation Report
Judge Elden Fox received the report before ordering Lindsay to remain at the Betty Ford Center until January 3, giving her a break by not sending her to jail.
Article continues below advertisement
The probation report, relaying information from one of Lindsay's doctors, reads: "The defendant was motivated to look at some of the problems in her life, however, there was some denial regarding her drug addiction. He feels that the longer the defendant is at the Betty Ford Center the better.
"He believes the defendant needs to continue to work on her issues in order to save her life. He indicates the defendant is a "wonderful young woman."
According to the report, chemical dependency counselor Gary Richman saw Lindsay at UCLA and then at her home. When she failed her drug test he tested her every day after that.
The report states: "After the positive drug test with the probation department, Mr. Richman indicates the defendant finally began to talk about feeling powerless and about being an addict. He states the defendant needs ongoing treatment and has a lot of growing up to do.
Article continues below advertisement
"She must make several changes in her life in order to succeed, especially coming from a family of dysfunction."
Lindsay told one of her caregivers that she cannot remain at Betty Ford because she's broke.
According to the report: "She indicates that she cannot afford to continue to pay for the treatment program and she needs to work. The defendant stated her clothing line is falling apart because she is not available to monitor the product. "
Lindsay also told them she is scheduled to start shooting a movie November 10.
The report reveals that Lindsay is in a group geared toward improving self esteem at Betty Ford and that she is also in group therapy and AA meetings.
One probation officer spoke to Lindsay by phone on October 14 and Lindsay said, "I feel good," according to the report.
Despite Lindsay's pleas to get out of Betty Ford, the probation report says she is doing well and recommends that she be kept there.
Article continues below advertisement
"The probation officer feels that it is a positive step, that the defendant has acknowledged her addiction and is seeking additional treatment," the report says.
"Possibly removing herself from her lifestyle and its pressures for an extended period is exactly what is needed to preserve her health."
The judge apparently agreed.
RELATED STORIES:
No Jail For Lindsay Lohan - Judge Orders Her To Stay In Rehab