EXCLUSIVE: Judge Refuses To Meet With Lindsay Lohan's Lawyers Before Court Hearing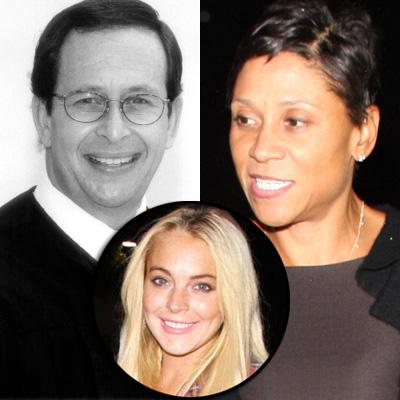 The Los Angeles judge who could send Lindsay Lohan back to jail as soon as Friday is refusing to meet with the Hollywood wild child's attorney, RadarOnline.com has exclusively learned.
Shawn Chapman Holley had requested a meeting with Judge Elden Fox before Lohan's crucial probation violation hearing at a Beverly Hills courthouse on Friday.
But in what could be an ominous sign before the judgment, RadarOnline.com has learned "Judge Fox is flat out denying Lindsay's lawyer's request to meet in chambers" in the presence of Deputy District Attorney Danette Meyers, according to a source with knowledge of the situation.
Article continues below advertisement
"Shawn had even contacted the D.A. to arrange the meeting, as she always has whenever the need has arisen to meet with the judge," said the source.
"Judge Marsha Revel agreed to meet routinely in the past with both sides, it's very common. But Judge Fox's refusal to meet with Lindsay's attorney is a very bad sign for the actress."
Judge Fox ordered Lohan back to jail without bail after she failed a court-ordered drug test, last month.
Holley complained the judge was wrong to deny bail and won a reprieve an appeal, after L.A. County Superior Court Judge Patricia M. Schnegg set bail at $300,000.
Lohan's counselors at the Betty Ford Center in Palm Springs have submitted to a detailed report to Judge Fox, before he makes his decision, RadarOnline.com has learned.
"Lindsay's treatment team is recommending that she stay in rehab longer than 30 days," said the source.
MORE ON:
Shawn Chapman Holley
Article continues below advertisement
As RadarOnline.com first revealed, Lohan, who has an addiction to cocaine, won't attempt to fight the dirty test result that sent her back to the slammer in the first place.
"Whatever Judge Fox orders Lindsay to do, she will comply with. Lindsay knows her fate is firmly in Judge Fox's hands," the insider said.
Lohan will leave Betty Ford early on Friday to arrive in court in Beverly Hills, for the hearing.