Exclusive
EXCLUSIVE: Lindsay Lohan Served 'Spray Tan' Lawsuit In Jail!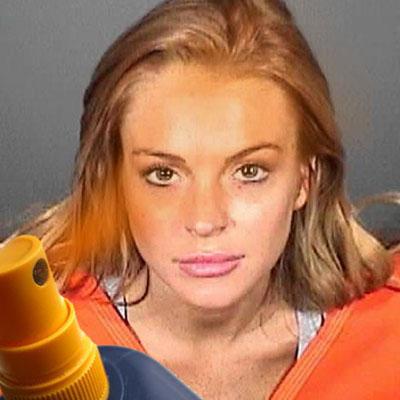 They knew exactly where to find her!
Jailbird Lindsay Lohan received details of a lawsuit, filed against her from a company accusing the actress of stealing spray tan secrets, while she was behind bars inside the Century Regional Detention Facility in Lynwood, California, RadarOnline.com has exclusively learned.
Law enforcement authorities had unsuccessfully attempted to serve the troubled Mean Girls star on July 20, 2010.
Article continues below advertisement
But according to court documents, the prior effort failed, even though it was left with her assistant 'Melissa' who was described as a 30 year-old, 5'4', 120 lb, a Hispanic female with brown hair.
According to the proof of service filed with the court, a process server was finally able to hand over the documents to the elusive actress on July 29, while she was in jail!
Lawyers for Lohan have since filed a motion to have the lawsuit dismissed.
The mix-up explains why Lohan waited more than twelve months to file a motion to dismiss, on grounds that the Florida court has no jurisdiction over her.
According to White Wave International Labs, a company called Lorit, which Lindsay is spokesperson for, stole their spray tan formula.
Lohan says: "Although I have been a spokesperson for Lorit, LLC, and its Sevin Nyne product, I had no involvement in where or how the Sevin Nyne product is marketed and sold or in the marketing strategy for the product."
Article continues below advertisement
And in what could be a good sign for Lohan, the other defendants in the case - Lorit Simon, Shawn Lapman and Crossheart Productions - had their request for dismissal finally granted last week.
Even though it was two days after Lindsay finally filed her request for dismissal!
The dismissal could mean one less legal woe for the 24-year-old starlet, who has been seeking treatment for the fifth time at The Betty Ford Clinic in Rancho Mirage, California.