Exclusive
EXCLUSIVE INTERVIEW: Michael Says It's 'A Shame' Dina Won't Invite Him To Lindsay's Rehab Family Day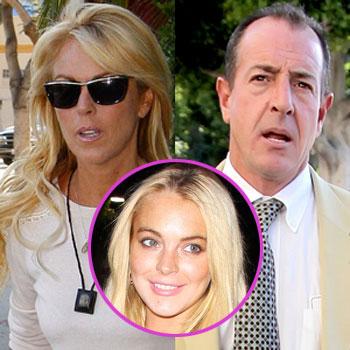 Dina Lohan called Barbara Walters over the weekend and revealed that she and her three kids will be visiting Lindsay at the Betty Ford Clinic for family week sometime soon. One person not invited: ex-husband Michael Lohan.
In an exclusive interview with RadarOnline.com, Michael said he's disappointed in Dina's continued plan to keep him out of his daughter's life.
"It's a shame that Dina continues to do this to Lindsay," he said. "She knows seeing the whole family together is the one thing she needs to find resolve. I don't understand why she insists on putting Lindsay in this position."
Article continues below advertisement
Michael told RadarOnline.com that he still plans to visit Lindsay on his own, and if she refuses to see him, he'll keep trying unitl she agrees to
meet with him.
"I actually went down to Betty Ford Thursday night to try and see her, but they told me it was too late and I would have to come back," he told RadarOnline.com exclusively.
"I have to talk to my daughter. I know she's angry about this conservatorship being filed and I want her to know that I never wanted to do it in the first place. The only reason I did it was so that she would find out and keep Dina and Lou Taylor from filing their own. I don't want her to be stressed out over this."
Michael said he did manage to get through to the head of Betty Ford over the phone, where he says they spoke at length about a recent set of pictures showing Lindsay walking with her counselor on the Betty Ford grounds.
"I was angry about that. No one should be getting that close to her while she's on the grounds there," he said. "I wanted to talk to the head of Betty Ford and ask how that happened and figure out how it can be prevented in the future."