Exclusive
EXCLUSIVE: Dina Lohan On Lindsay, 'We're Taking It Day By Day'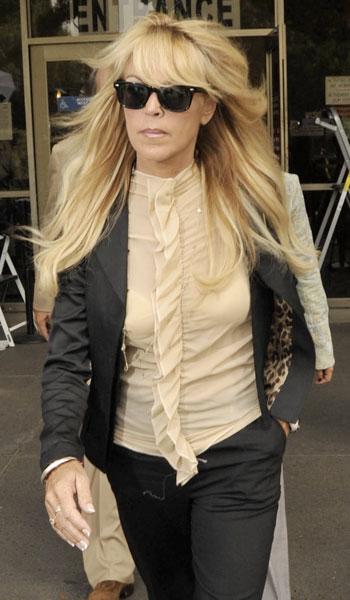 Dina Lohan looked relieved in court on Friday as the judge told her daughter Lindsay that he was not going to send her to jail but rather allow her to return to rehab to finish treatment at the Betty Ford Center. In an exclusive statement to RadarOnline.com, Dina expressed how happy she is with the ruling.
PHOTO: Lindsay Arrives To Court On Friday
"We're taking it day by day and we're very thankful for all the support and the love we've received," Dina told RadarOnline.com on Friday.
Article continues below advertisement
RadarOnline.com was in the Beverly Hills courtroom where Lindsay was ordered to appear for her sentencing relating to her probation violation.
The actress, 24, wore jeans and a black blazer as she sat near her mother. Lindsay's father, Michael Lohan, was also at court but sat on the opposite side of the room.
RadarOnline.com obtained Lindsay's probation report, which revealed her admission to feeling powerless about being an addict.
DOCUMENT: Read Lindsay's Probation Report
The powerful report, prepared by Lindsay's probation officer, contains information from several of her caregivers and gives strong insight into what the troubled actress has been dealing with.
The probation report, relaying information from one of Lindsay's doctors, reads: "The defendant was motivated to look at some of the problems in her life, however, there was some denial regarding her drug addiction. He feels that the longer the defendant is at the Betty Ford Center the better.
Article continues below advertisement
"He believes the defendant needs to continue to work on her issues in order to save her life. He indicates the defendant is a 'wonderful young woman.'"
The report states: "After the positive drug test with the probation department, Mr. Richman indicates the defendant finally began to talk about feeling powerless and about being an addict. He states the defendant needs ongoing treatment and has a lot of growing up to do.
"She must make several changes in her life in order to succeed, especially coming from a family of dysfunction."
Lindsay told one of her caregivers that she cannot remain at Betty Ford because she is broke. According to the report: "She indicates that she cannot afford to continue to pay for the treatment program and she needs to work. The defendant stated her clothing line is falling apart because she is not available to monitor the product. "