PHOTO: First Pic Of Lindsay Lohan's Shopping Spree During Rehab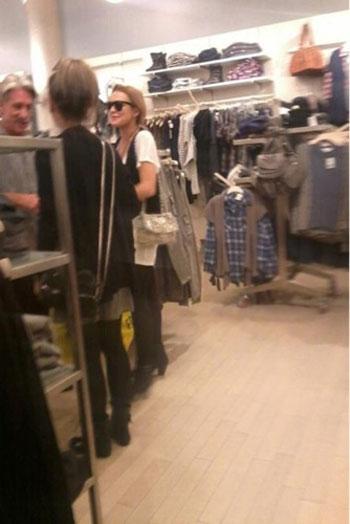 As RadarOnline.com exclusively reported, Lindsay Lohan stepped outside the walls of the Betty Ford Center on Tuesday to go shopping at a nearby Forever 21 store. Now, the first photo of the actress during the trip has surfaced.
The photo confirms what store manager Tiffany Bennett told RadarOnline.com about Lohan: that the actress "looks really, really good."
In the photo, Lohan seemed relaxed and fashionable in tall boots shades, a white t-shirt and a black vest with her red hair gathered loosely around her neck.
Article continues below advertisement
"We were surprised that Lindsay was so low key," Bennett said. "The only thing she asked us to do was to hold some of the items at the front until she was finished picking things out."
Lohan was accompanied by an unidentified female and snapped up $200 worth of merchandise including "a leopard sweater, a lot of pajama bottoms, and a ton of socks." Lohan's shopping companion also did some damage, buying up around $300 of merchandise.