Exclusive
EXCLUSIVE DOCUMENTS: Criminal Complaint Filed Against Cy Waits For DUI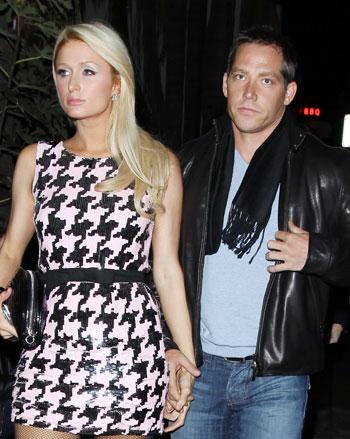 Update: Wait's attorney David Chesnoff exclusively tells RadarOnline.com, "Mr. Waits will enter a plea of not guilty to the charges. We have not received the forensics in this case but intend to challenge the legality of the stop given that my client passed all the field sobriety tests."
Article continues below advertisement
---
A criminal complaint was filed against Paris Hilton's boyfriend, Cy Waits today relating to his August 2010 DUI arrest.
Because Waits was previously arrested and released for the incident, a summons will be issued for his scheduled court appearance on February 17, at Justice Court, Las Vegas.
EXCLUSIVE DOCUMENTS: Criminal Complaint Filed Against Cy Waits
As RadarOnline.com previously reported on August 26 authorities in Las Vegas pulled over a Cadillac SUV Hilton was riding and Waits was driving, claiming to smell marijuana coming from it.
Waits was subsequently arrested on suspicion of misdemeanor driving under the influence of alcohol or drugs, as was Hilton after police said they found cocaine in the socialite's designer purse.
After an initial series of excuses didn't hold water, Hilton pleaded guilty to the drug charges and received two six-month suspended jail terms in connection with the cocaine possession, as well as $2,000 in fines, 200 hours of community service and mandatory entry into a substance abuse program.
Article continues below advertisement
Waits was fired from his job as the head of nightclub operations for Wynn and Encore properties after his much-publicized arrest.
Waits is being charged on three counts – a felony - under the influence of controlled substance, which carries a maximum sentence of 1 to 4 years in prison and a fine of up to $5,000.
And two misdemeanors - DUI – maximum sentence of 2 days to 6 months in jail, 48-96 hours of community service, complete DUI impact and Victim Impact Panel, and a fine of $400 to $600.