HOLIDAY PLANS: Find Out What Your Favorite Reality TV Stars Are Doing Off-Screen For The Holidays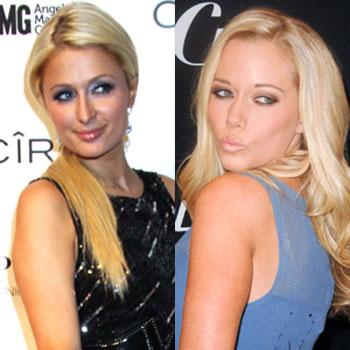 Reality television stars tend to be controversial, but the holiday season is a reason to tone it down and spend time with their loved ones -- as RadarOnline.com discovered when we surveyed your on-screen favorites.
Everyone from the Jersey Shore to The Bachelor -- and Paris Hilton and Kendra Wilkinson in between — here's a complete list of festive plans:
Article continues below advertisement
Spencer Pratt tells us he's headed north, way north – to the North Pole.
For more of the stars' holiday plans, go to PopEater.
Click Here To See What Your Favorite Musical Stas are Doing For The Holidays
But if that doesn't work out, he'd like to fulfill a lifelong wish of helping out the needy and working in a soup kitchen. There's no word on his other half, Heidi Montag.
The cast of Jersey Shore will be sticking to the East Coast according to PopEater.com, with Pauly D and J-WOWW hanging out in Long Island, Snooki dividing her time between there and New York and Vinnie heading to Staten Island.
VIDEO: Mariah Carey's Holiday Diva Sing-Off With Mom
Housewives are in hot demand during Christmas, as Real Housewife of New York star Sonja Morgan explains to RadarOnline.com.
"There will be 20 family members we'll share the holiday with. We don't see each other all the time but we're very tight," she said in an exclusive interview.
"I also decorated the front of my New York City home for Christmas. That was fun! My daughter and I put real candy canes in front so people who walk by can help themselves.
Article continues below advertisement
"We did a classic Christmas tree in front of the house and white flashing lights. Each year on our Christmas ornaments we write each person's name or initials in glitter…and we have little stockings for the dogs and put doggie treats inside."
Unlike her on-screen counter-part, Jill Zarin plans on leaving the snowy East Coast for the luxurious beaches of Aruba on a family vacation that will take them through the New Year.
In neighboring New Jersey, this holiday season is all about family bonding for reality star Danielle Staub: "I'm looking forward to this holiday season spending quality time with my daughters and my friends," she told RadarOnline.com exclusively.
In Atlanta, NeNe Leakes and Kim Zolciak will be staying south for the season with Leakes splitting her time between Georgia and Miami and Zolciak – who is pregnant – says she wikk ve laying low in Atlanta.
Article continues below advertisement
Taylor Armstrong, the Oklahoman native from Bravo's Beverly Hills franchise, told RadarOnline.com she'll be spending Christmas with her husband Russell, her two stepsons and their four-year-old daughter Kennedy.
"My New Years resolution is to spend more one-on-one time with my husband," she said.
"I'm just going to make him spend more time. I'm going to show up to his office, lock the door in his office, turn his computer off and make him go away with me on the weekend."
Heiress Paris Hilton is going to maximize her sun exposure this holiday season by jet-setting to Maui, PopEater.com is reporting.
The 29-year-old will be spending her time with her boyfriend of a few months, Cy Waits, and after their Hawaiian getaway the couple is heading to Cabo San Lucas for New Year's.
Former Playboy and mother of one, Kendra Wilkinson is sure to have a white Christmas since she'll be with her husband Hank Baskett and baby son Hank Randall Baskett IV in the snowy state of Minnesota.
Article continues below advertisement
Here's a rundown of what past contestants on The Bachelor and The Bachelorette will be doing for the holidays:
* Vienna Girardi – the scorned lover of Jake Pavelka replaced her heartache with a pension for snowboarding so she'll be flying to Breckenridge, Colorado.
* Jesse Csinscak and new wife Ann Leuders – the couple will remain in Breckenridge, Colorado because the high altitude may induce early labor for Ann, who is pregnant with their first child.
* Trista and Ryan Sutter – The former Bacherlorette is treating her husband to a brand new snowboard he can use while their family celebrates the holiday season in Colorado.
* Matt Grant – The show's first UK contestant will be staying in Los Angeles with his new girlfriend and utilizing his free time to prepare for a hike up Mount Kilimanjaro in February, as well as helping to raise money for Flying Kites, a children's orphanage in Kenya.
Article continues below advertisement
There's no more interesting reality than royalty.
Despite his recent engagement to Kate Middleton, Prince William will remain on active duty during the holidays at his base in North Wales, says PopEater.com.
Being on the base means the Prince will miss out on Queen Elizabeth and the rest of the royal family's annual trip to Sandringham House in Norfolk.
Another celeb spending their time in Britain will be Kelly Osbourne, who will spend the holidays just outside London with her parents, Sharon and Ozzy, and brother Jack.
Dancing With The Stars pro Cheryl Burke is heading north to spend time with family in San Francisco.
Father of eight, Jon Gosselin, will stay in his Pennsylvania home where he'll share time with girlfriend Ellen Ross and the kids.
Close friend of Kim Kardashian and star of E!'s reality show Spin Crowd, Jonathan Cheban, told RadarOnline.com he'll be keeping warm this season by soaking up the sun in Miami.
Article continues below advertisement
The stars of Bad Girls Club are trying to do some good this holiday season to avoid getting a stocking full of coal. Tanisha Thomas told RadarOnline.com she'll be organizing a clothes drive for the Salvation Army in New York and is going to try to get in shape for an upcoming project.
Sarah Michaels will be spreading holiday cheer with her large, extended family in Milwaukee, Wisconsin; Amber Meade is a Jehovah Witness who doesn't celebrate Christmas so she's darting to the Barbados for some R&R with friends; Natalie Nunn is celebrating with family in San Francisco and will be turning 26 shortly after, followed by a trip to Florida.