Exclusive
EXCLUSIVE: Raising Sextuplets' Dad Nixes Estranged Wife's Request To Pose For Family Christmas Card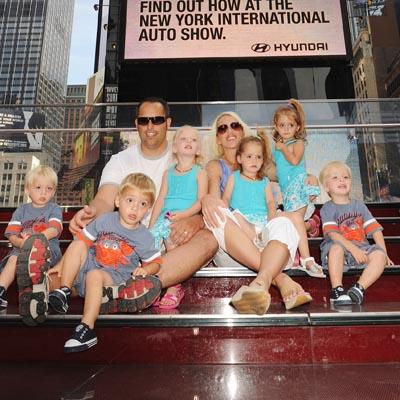 Article continues below advertisement
RadarOnline.com recently revealed that McClendon's wife Ashley McClendon filed for divorce because of his ongoing affair with Jennifer, which resulted in the end of her marriage to Bryan.
Family Christmas card? Not this year!
Bryan and Jennifer first made headlines earlier this year when he was arrested after a domestic incident at home.
A source told RadarOnline.com: "Bryan thought Jennifer's proposal for them to pose for a Christmas card together was totally insane.
"He knows full well that she is still seeing Levi.
"Jennifer, along with the kids, attended her grandmother's birthday in Phoenix this weekend but afterward she stayed to spend time with Levi.
"It was her mom Susan who handed the kids over to Bryan back in Camp Verde and he did not feel that was appropriate.
"This whole idea of their Christmas card is just delusional while all the time she is still seeing Levi. Bryan has lost any respect he had for her."
Article continues below advertisement
RadarOnline.com revealed how Bryan Masche contacted Ashley after he found out that his wife had been secretly hooking-up with Levi, her former boyfriend.
The reality TV dad flipped-out after he discovered that Jennifer was visiting with her former boyfriend while she was supposed to be on 'a prayer retreat' in San Diego with some girlfriends.
The two men had several heated telephone conversations when the affair was exposed. Jennifer and Levi had dated 15 years ago and rekindled their relationship when she signed him up for a business venture she got going in March.
EXCLUSIVE AUDIO: Hear The 911 Calls Leading To 'Raising Sextuplets' Dad's Arrest
Bryan was arrested on September 11, 2010, in Arizona on charges of domestic violence and resisting arrest following a family bust-up, in which he allegedly shouted profanities at his wife in front of their children and threatened to "flatten" his father-in-law.
Bryan agreed to plead guilty to two misdemeanor charges -- threatening and intimidating per domestic violence and disorderly conduct per domestic violence -- in exchange for not serving any time behind bars.
Article continues below advertisement
The judge ordered him to do both domestic violence counseling and parenting classes as part of his agreement, and if he completes the courses successfully and does not break the law within the next twelve months, he will only be sentenced for disorderly conduct.
Both Bryan and Jennifer Masche rejected an offer from WE tv to tape a new show centering on the current status of their marriage.
RELATED STORIES: