Exclusive
EXCLUSIVE: Raising Sextuplets Dad Confronted Another Man Over Relationship With Wife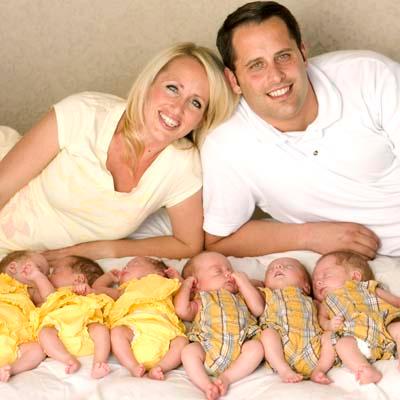 Raising Sextuplets couple Bryan and Jennifer Masche's marriage was shattered after she re-kindled her friendship with former boyfriend Levi McClendon, RadarOnline.com is reporting exclusively.
McClendon, who is married with two young sons and lives in Arizona, visited Jennifer while she was supposed to be on 'a prayer retreat' in San Diego with some girlfriends, a source disclosed to RadarOnline.com.
Article continues below advertisement
When Bryan found out about Jennifer and McClendon meeting he contacted McClendon's wife, which led to the two men having several heated telephone calls, RadarOnline.com learned exclusively.
Bryan and Jennifer starred on the cable reality TV show Raising Sextuplets. He was arrested after an argument at Jennifer's parents' home and the couple is now split.
A source close to the situation told RadarOnline.com: "Jennifer and Levi had dated some 15 years ago, however, they got back in touch when she signed him up for a business venture she got going in March.
"But the straw that broke the camel's back was when Levi visited Jennifer during a 'prayer retreat' in San Diego in June when she was with some girlfriends and was supposed to be re-assessing her relationship with Bryan.
"It made Bryan have major trust issues at a time when their marriage was already in trouble."
EXCLUSIVE PHOTO: The Smiling Mug Shot Of TV's 'Raising Sextuplets' Dad
RadarOnline.com has learned that the reality couple's relationship went from bad to worse after Bryan contacted McClendon's wife to tell her about their relationship via Facebook.
Article continues below advertisement
This resulted in several heated telephone conversations between the two men in July before Bryan's eventual fiery showdown with his wife at her parents' Campe Verde home on September 11, which led to his arrest.
Jennifer then filed for legal separation from her husband at Yavapi County Superior Court on September 17, without even informing him.
The source added: "It was really bad because Levi accused Bryan of trying to ruin his marriage by contacting his wife while Bryan felt he had every right because here was this guy together with Jennifer and they had six kids together!
"Bryan still wants to win Jennifer back," but a lot of his friends and family don't think that's a good idea.
"She has started a new job and seems to making plans for the future without Bryan and his friends are urging him to look after himself at this point," the source said.
"However, he still loves his wife deeply and has not given up hope that they can still get back together."
AUDIO - Hear The 911 Call On RadarOnline.com
Article continues below advertisement
McClendon runs a text message support company.
When RadarOnline.com contacted Bryan Masche about the nature of Jennifer and Levi McClendon's relationship he remained tight-lipped.
He said: "I do not want to comment at this stage while Jennifer and I assess our future – my wife and family remain the love of my life and they are my focus right now."
Repeated calls to McClendon were not returned.
RadarOnline.com exclusively revealed Monday that both Bryan and Jennifer Masche rejected the offer from WE tv to tape a new show centering around the current status of their marriage. Bryan is due back in court on November 4 in connection with his arrest.