Exclusive
EXCLUSIVE INTERVIEW: 'Raising Sextuplets' Dad Tells Radar -- 'I'm Not A Criminal'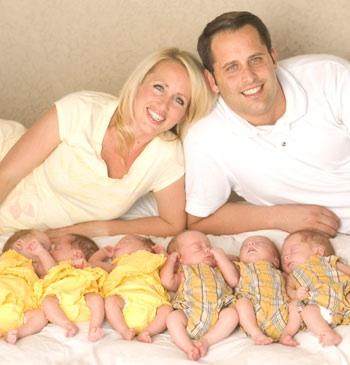 Reality TV dad Bryan Masche has spoken for the first time about his arrest on charges of threatening domestic violence, telling RadarOnline.com exclusively: "I'm not a criminal!"
The father of We TV's Raising Sextuplets was arrested in Arizona on September 11, 2010, following a family bust-up, in which he allegedly shouted profanities at his wife Jenny in front of their children and threatened to "flatten" his father-in-law.
Article continues below advertisement
In his first interview, Masche, 32, told RadarOnline.com: "I'm not a criminal. Look at my record - I was in the United States Air Force for eight years before working in pharmaceuticals.
"Now, I'm running my own finance company. At the moment I don't want to comment further on this incident."
RadarOnline.com was the first to obtain Masche's arresting and smiling mug shot.
He has been charged with two counts disorderly conduct for domestic violence, one count resisting arrest and one count threatening domestic violence.
Masche and his wife Jennifer Masche were being touted as 'more positive' reality role models than Jon and Kate Gosselin prior to his run-in with the law.
The family had lived in Arizona - and their sextuplets were only the second ever born in the state - until earlier this year when they moved to Florida.
Mom Jenny is a physician's assistant at a hospital in their new hometown of Destin, Florida - their sextuplets, three girls and three boys, were born in Phoenix on June 11, 2007.
Article continues below advertisement
Before his arrest, We TV admitted that the couple was seeing a relationship counselor before the domestic bust-up.
Masche is alleged to have refused to comply with deputies' commands and that's when he was arrested; their children were not in the house at the time.
Masche was taken to the Yavapai County Detention Center where he was booked and released on $3,500 bond.
RELATED STORIES:
EXCLUSIVE PHOTO: The Smiling Mug Shot Of TV's 'Raising Sextuplets' Dad