HOLIDAY PLANS: What Your Favorite On-Screen Stars Are Doing For The Holidays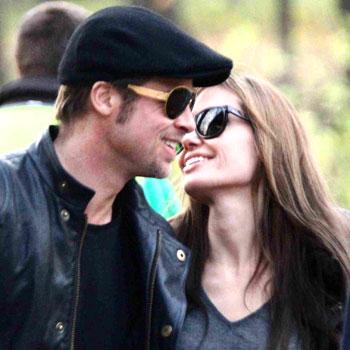 It's that time of year again when friends and family gather to celebrate the holidays, and RadarOnline.com is revealing how your favorite on-screen actors and actresses like Ellen DeGeneres, Brangelina, Lea Michele and John Travolta are spending the season.
Funny gal Ellen DeGeneres and her wife Portia de Rossi are taking to the high seas on a Caribbean cruise that both of their families will join them on.
Article continues below advertisement
"I'm Jewish, so we already celebrated Hanukkah," Crazy Heart actress Maggie Gyllenhaal confided to PopEater.com of her plans with husband Peter Sarsgaard.
For more of the stars' holiday plans, go to PopEater.
"For Christmas, we just have time off. We'll be around the whole time and have a real New York Christmas."
PHOTO: Paris Hilton's Christmas Card Revealed
Actress Mena Suvari revealed exclusively to RadarOnline.com that she and her cinematographer hubby are hitting the open road.
"We're going to take a road trip and visit a city we've never been to. We're going to explore, but most importantly we're going to be together," the American Beauty star said.
Angelina Jolie and baby daddy Brad Pitt have a tradition of flip-flopping their holiday season between America and a foreign country, and Jolie said on Larry King Live that it's an abroad year for Brangelina and their brood of six kids – with destination unknown.
Article continues below advertisement
Recently expanding their brood with a new baby boy were Scientologists John Travolta and Kelly Preston, who according to PopEater.com will be spending their free time in the snowy state of Maine with their family.
VIDEO: Mariah Carey's Holiday Diva Sing-Off With Mom
"I'm looking forward to cooking for my parents and my Cincinnati in-laws-to-be," Chicagoan Private Practice actor Michael Patrick Thornton told RadarOnline.com exclusively of how he and his fiancée Lindsey are celebrating the holidays.
"The Black Keys concert, putting on Johnny Mathis and opening some great wines and doing all of these things with Lindsey. Try as he may, Santa ain't got nothin' on the joy she brings."
Gwyneth Paltrow's mother Blythe Danner told PopEater.com that she had traditional Christmas festivities planned with the family.
"We'll all be together with lots of music, singing, playing games and eating food. My daughter is a great cook," Danner said of Paltrow.
Article continues below advertisement
"She cooked five ducks for my birthday two years ago, so who knows what delicious food she'll have in store for Christmas."
The View co-host Sherri Shepherd told RadarOnline.com, "I live in NYC but I'm an LA girl at heart. For Christmas I need some sun, so I'm headed out to LA to celebrate Jesus' birthday West Coast style. After Jeffrey and I open our gifts, we're going swimming at the beach!"
"To bring in the New Year my BFF, Niecy Nash and I are headed to Cabo San Lucas for some rest, relaxation and good girl talk!" Shepherd said.
Other stars that have graced your television and theater screens on our RadarOnline.com include:
Pamela Anderson – the buxom blonde signed on to play the Genie in Aladdin at the Liverpool Empire from December 10th to January 2nd so she'll be spending the holidays overseas.
Lea Michele – the Glee star will be spending time in New York City with her family and boyfriend.
Michael Sheen – "I will be spending it here in Los Angeles because my daughter is here," Sheen told RadarOnline.com of his plans. "I only have a week off then I'm off to Louisiana to shoot Twilight."
Article continues below advertisement
Max Adler – this Glee star tells RadarOnline.com, "I'm planning on heading home to Scottsdale to visit my family for Christmas. Then I'm heading to NYC for New Year's where I plan on checking out the Rockefeller Christmas Tree, ice skating in Central Park and seeing the Spider-Man musical on Broadway."
Oprah – the queen of daytime talk shows will be going to the South Seas on holiday with her beau Steadman, Barbara Walters said on The View.
Randy and Evi Quaid – the quirky couple will be in their favorite country of Canada for the holidays.
Angie Harmon – the actress told RadarOnline.com, "It's going to me and our family in our new home. That I think is the best. My girls are still little so we're creating these kind of traditions – they know that the house always smells good, there's always fireplaces going; it looks like Santa Clause threw up all over my house. It's wonderful."
Article continues below advertisement
Kate Flannery – "Christmas means old movies at our house. We sit for hours in the den and stay up late and watch the Christmas classics until we can't keep our eyes open," The Office star told RadarOnline.com. "We always break out the Christmas records. Yes, we still play records!"
Donald Faison – The Scrubs actor will be staying local this year, hanging out in Los Angeles with his girlfriend because he loves being home for the holidays.