Exclusive
EXCLUSIVE: Jesse James' Ex Furious Their Daughter Spending Christmas With Sandra Bullock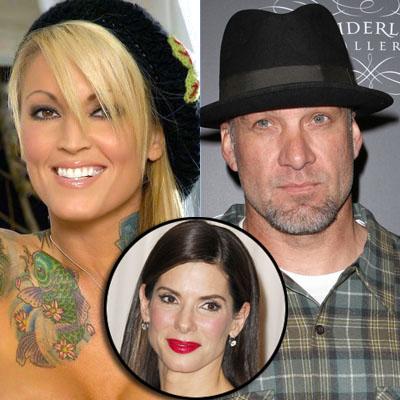 Janine Lindemulder's lawyer Richard Masson will fight to make sure her daughter Sunny James is with her mom for Christmas -- and not Sandra Bullock, RadarOnline.com has learned exclusively.
Originally, Jesse James reportedly had planned to spend Christmas with his Oscar winning ex-wife and her adopted son Louis Bardot, Sunny and his other two kids, Chandler, 14, and Jesse Jr., 12.
Masson is fuming that James is snubbing the courts by refusing to pay his legal bills, child support payments and not giving his client (Lindemulder) access to their seven-year-old daughter either. A rep for James did not return a request for comment.
Article continues below advertisement
A source told RadarOnline.com: "Richard will file an emergency motion if he has to before Christmas because Sunny is supposed to be with Janine not Jesse.
"We are working actively to resolve this situation through the courts if need be because Mr. James must be compliant with their orders."
RadarOnline.com revealed how Lindemulder's mom Jonlyn hoped that her former son-in-law would be placed behind bars for his treatment of her daughter.
Masson had filed a motion for James to be found in contempt of court at a hearing before Judge David Belz on January 14, 2011, but now they could head to Santa Ana Justice Center sooner than that.
Jonlyn Lindemulder told RadarOnline.com: "The whole situation is ridiculous. What right has he got to take Sonny to see Sandra Bullock over Christmas when Janine cannot get to see her own daughter?
"She was supposed to see her for Thanksgiving but that did not happen and he has not been making child support payments to her either.
MORE ON:
Janine Lindemulder
Article continues below advertisement
"I hope this new judge takes a tough stance and I would love to see him sent to jail so he would smarten-up."
On November 19, 2010, Judge Belz ordered James and Lindemulder to attend a 730 Evaluation in an attempt to end their legal battle over their 7-year-old daughter.
In California, a 730 Evaluation is described as an in-depth study and investigation of the "family, it's members, and/or prospective members" and their relationship with the children.