HOLIDAY PLANS: Check Out What Your Favorite Musicians Are Doing This Season!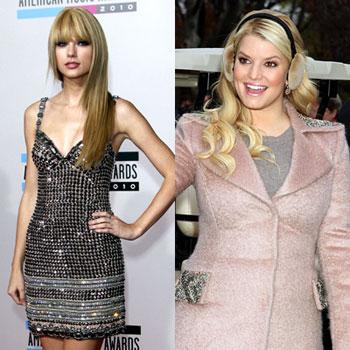 Holiday music is a sure sign that the season is here so RadarOnline.com is bringing you the plans of some of your favorite musicians like Mariah Carey, Jessica Simpson and Taylor Swift.
VIDEO: Mariah Carey's Holiday Diva Sing-Off With Mom
"The holidays are going to be all about family and fun for me this year. I'm so excited to be spending the holidays in Arizona with Kristi and Raine and Jorja," rocker Bret Michaels told RadarOnilne.com exclusively.
Article continues below advertisement
"I can't go there this year because of the altitude," Carey said. "We're figuring it out. Looking at different options."
It's a festive month for Taylor Swift who celebrated her 21st birthday on December 13th.
"I love Christmas. When I was a little kid and I was growing up, they'd always have a Santa Claus guy show up and take everybody's wishes or what they wanted for Christmas," the Love Story singer recently told MTV.
Article continues below advertisement
Bride-to-be Jessica Simpson told reporters during the Rockefeller Center tree lighting ceremony, "Being newly engaged, we'll probably have to split up time between Boston and Texas. It's going to be a traveling kind of holiday season."
Simpson's ex-hubby and also newly engaged, Nick Lachey, told Rachael Ray: "We're going to be in Cincinnati with family, and hopefully having a white Christmas. We're going to be in Tuscany for New Years."
"You think it's tacky when people would put up those icicle things? Come to Oklahoma – tacky is like, redefined," YouTube phenomenon 13-year-old Greyson Chance joked with PopEater.com about his home state.
"They're totally like what's the movie, National Lampoon's? There are so many of those Chevy Chase houses in Oklahoma, especially in Edmond. We put up lights too, but something always goes bad with our lights, so I'm excited to see what it is this year."
Article continues below advertisement
LL Cool J – born James Todd Smith – told RadarOnline.com there's no place like home for the holidays.
"I look forward to resting and relaxing with my family and enjoying the holidays in NYC!" the rapper and actor said.
"What a great place to bring in the New Year. Watching the ball drop is a family tradition."
PHOTO: Paris Hilton's Christmas Card Revealed
Giving you a flash from the past, RadarOnline.com caught up with original boy band Boyz II Men who said they'll be spending the holidays in Sin City.
"We're looking forward to spending the holidays in The Flamingo Room in Las Vegas where we'll be performing through January 9th…we'll get to spend the holidays with our fans," they said.
"The atmosphere will definitely be warm and festive since we'll be singing holiday classics in addition to all of our hits… And as far as holiday lights go, you really can't do any better than Vegas."
According to PopEater.com, LeAnn Rimes and beau Eddie Cibrian will be celebrating at home with family and friends.
Article continues below advertisement
"Christmas, we're going to be at our home with all of our family coming to us. Eddie's going to introduce me to the kid tradition. I've never had two kids running around Christmas morning," Rimes said.
"I will probably be up before them. I usually am anyways. I get coffee ready, I get breakfast ready, and then I'm ready to go. It's fun to have kids around! It's completely different."
Finally, country crooner Brad Paisley will be spending the holidays with his wife Kimberly Williams in Tennessee.