Exclusive
EXCLUSIVE INTERVIEW: 16 And Pregnant's Christinna -- 'My Biggest Challenge Is My Relationship With Isiah'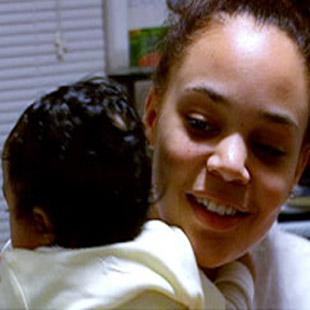 16 And Pregnant fans watched in horror last week as Christinna Renee Robinson was pressured by the grandmother of her baby's daddy, Isiah, to take a DNA test and prove that he is indeed the father of Christinna's daughter, Destiny.
But things are looking up for the level headed teen mom who spoke exclusively to RadarOnline.com about how she has turned her life around, moved back to New York, is attending school and focusing on getting her degree.
Article continues below advertisement
Radar: How are you doing as a new mom?
Christinna: "I think I'm doing very well for a first time mother. Luckily, Destiny is a good baby, but she's a hand full sometimes now that she's walking. It seems like she learns something new each day. It's hard to multi-task between being a mom and a full time student, but I love being Destiny's mommy so it's all worth it!"
Radar: Is being a mother what you expected?
Christinna: "Surprisingly, yes. I read every single book I could possibly find about motherhood while I was pregnant, and it prepared me a lot. I was also the oldest out of all my brothers and sisters so I had experience with babies and young children. I think educating yourself and being realistic is the best thing you can do to prepare yourself for being a new mom. Reading helped me know what to expect to happen while raising a baby."
Article continues below advertisement
Radar: Tell us what you miss most about life before you were pregnant?
Christinna: "Sleep! I forgot how nice it was to be able to sleep in. Destiny wakes up bright and early every single day no matter what, and I am NOT a morning person. It's hard for me to function before 10 am, but I love waking up to a huge smile across Destiny's face, she's wakes up happy every day."
EXCLUSIVE INTERVIEW: 16 And Pregnant's Markai - 'My Story Is Intense!'
Radar: What has been your biggest challenge?
Chrstinna: "My biggest challenge was my relationship with Isiah. I spent months debating on whether to leave him or not. I wanted to make sure that my decision was in Destiny's best interest and that I was setting the best example possible for her. I didn't want Destiny to grow up and think that getting a divorce was acceptable, BUT I didn't want Destiny to grow up and think that our marriage was how her marriage should be either. It was hard to leave Isiah, but I am happy with the choice I made because I know that it was in Destiny's best interest."
Article continues below advertisement
Radar: How do you juggle the baby, school and work?
Christinna: "Well, I don't work so I only have to juggle Destiny and school. I have made school my job and I'm focused on getting my degree. It is extremely hard to do well in school and be a good mom, but now that I've moved back to New York, I have a lot more support. My mom helps me watch Destiny while I'm at school and when I need to do homework or study. Destiny makes it very difficult to do anything that doesn't revolve around her, so I don't know what I'd do without my mom!"
Radar: Tell us a typical day in your life?
Christina: "I set my alarm for 7:15 a.m. for school but I usually don't get out of bed until around 8 a.m. I shower and get ready, feed Destiny and then I leave for my 9:30 am English class. After my English class is over, I go back home, feed Destiny and then rush back to school for my History and Biology class. By the time I get home from school, its 4:15 p.m. and then I have to feed Destiny again, eat dinner and play with Destiny and relax. At around 8 p.m., I try to calm Destiny down and get her ready for bed. If and when Destiny goes to sleep, I try to get on my school's website to do my daily work for my two online classes."
Article continues below advertisement
Radar: If you didn't have a child, what might you be doing now?
Christinna: "If I didn't have a child I would be doing the exact same thing as I am now minus Destiny. I would be going to school getting my degree but I would probably live in the dorms on campus."
Radar: Who has been your biggest supporter through this experience?
Christinna: "My mom has definitely been my biggest supporter. My friends helped me a lot too, but my mom has always been there for me no matter what. My mom always encourages me to stay strong and reminds me that I can get through anything if I put my trust in God. Sometimes I get discouraged with all the trials and tribulations that come along with being a single teen parent. My mom reminds me that I can be a good mom, no matter how young I am."
Radar: Have you remained close with your high school friends?
Christinna: "I'm still close to all my real friends, especially now that I'm back in New York. All of my friends love Destiny, and they are still just as much a part of my life as they were before I had a baby."
Radar: Do you think you will have more children? If yes, how long do you feel you will wait?
Christinna: "Yes, I definitely want more children. I plan on waiting until I have graduated from college and established a career before I have any more children. I think it would be unfair to Destiny and the new baby to have another child too soon."
Article continues below advertisement
Radar: What are your goals for the future?
Christinna: "I want to obtain my Masters Degree and establish a career for myself. I want to buy a house in a good neighborhood and school district and find a good church to raise Destiny in. I also want to have more children because I love being a mother. I want to find a good husband, who also has a career and shares the same values that I do and someone to be a father to Destiny since Isiah has unfortunately chosen not to be a part of Destiny's life. Even if I do not remarry, I just want to be successful so I can give Destiny the best life I possibly can."