Exclusive
EXCLUSIVE DOCUMENTS: Photographer Sues Tila Tequila For Emotional Distress, Claims Kidnapping, Death Threats & Hush Money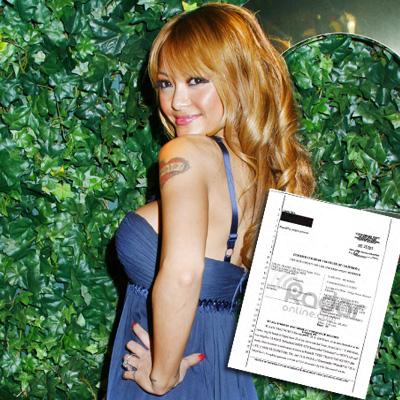 Tila Tequila is being sued for causing a Los Angeles photographer "emotional and physical distress" and "humiliation", RadarOnline.com has exclusively learned.
EXCLUSIVE DOCUMENTS: Read Garry Sun's Lawsuit Against Tila Tequila
The former reality TV vixen was granted a three-year restraining order against paparazzo Garry Sun in November.
But in a cross-complaint filed in a Los Angeles court, Sun has ratcheted up his bizarre claims that Tila kidnapped his ex-girlfriend, Shyla Jennings.
Article continues below advertisement
"Jennings told Sun that within five minutes, four men walked into her house and told her that she would be going 'somewhere' with Tila Tequila," the photographer's declaration says.
"Jennings urged Sun not to call police, as Jennings stated that she had been told by on of the four kidnappers, that she would be killed if she notified the police."
In what's dubbed in the documents as a "Series of Unfortunate Events" - filed on December 20 - it's said that Shyla confessed to Garry she was flown to California from Texas with Tila in a private jet, against her will.
As RadarOnline.com previously reported, Sun petitioned for a restraining order against the 29-year-old star in October citing the kidnapping and extortion of Jennings.
Tila countered with her own TRO against the photographer - which was granted - saying Garry's statements were false accusations and cited defamation of her character.
In the new court papers, Sun alleged that when news of the kidnapping and extortion was made public, Jennings freaked out and accepted a payoff from Tila to stay quiet.
Article continues below advertisement
"Sun was on the phone with Jennings when the story broke," the document states.
"Sun states Jennings started screaming, said she was going to take the 'hush money' and hung up the phone on Sun."
As part of his cross-complaint, Sun exposed comments Tila had allegedly made on her personal website where she called him "pathetic," said he has a "dangerous fatal attraction" with her and is a "creepy paparazzi."