Exclusive
EXCLUSIVE: OC Housewife Jeana Keough Wants To Lose Another 15 Pounds- Her Simple Diet & Body Tricks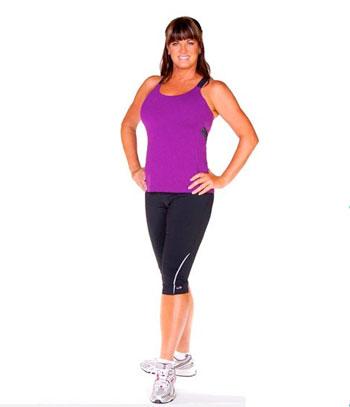 Former The Real Housewives of Orange County star Jeana Keough lost 25 pounds on national television but her sights are set even higher – she wants to drop even more pounds!
"I'd like to lose another 15 pounds!" Jeana told RadarOnline.com exclusively.
EXCLUSIVE INTERVIEW & PHOTOS: Sneak Peek At OC Housewife Alexis Bellino's New Clothing Line
So how will she do it?
"I'll increase my cardio. I do four and a half hours of weight work a week three days a week, and two days of cardio," said Jeana, who recently revealed her whopping weight loss on Bravo's 'Thintervention with Jackie Warner.'
Article continues below advertisement
And she makes sure her workout isn't really work.
"One day we run the football stadium at the high school like Rocky," she boasted.
"And I'll do four or five laps around the football field. I'll also swim or do kickboxing. I always make sure it's at least an hour a day."
Jeana dished on her secrets to slimming success– with a little help from her coach Jackie, who stays in touch with her via email to check in on her continued progress.
"I have Jackie's book This Is Why You're Fat (And How to Get Thin Forever): Eat More, Cheat More, Lose More- and Keep the Weight Off, so I know exactly what I'm doing," Jeana said.
"I eat five little mini meals a day. You have to do it. I even send my kids off with a Cooler so they don't eat junk."
For breakfast and throughout the day her menu consists of "a lot of protein shakes and a lot of vitamins."
Article continues below advertisement
"We take a lot of vitamins in this family. We're firm believers. Everyone's always discovering the newest vitamin E and cod fish oil," she joked.
For lunch and dinner Jeana will indulge on nothing but protein. "Chicken or salmon," she said. "I want to take the mystery out of eating so it's not an event."
Even if she dines out, Jeana makes sure she doesn't over-indulge by eating a meal before she heads out the door.
"So when I get there I'll eat a salad or something smaller," she said.
But there's one food Jeana said she'll never deny herself: "Pizza!. I've never given that up, but I'll only have one piece… then I'll eat the fish," she said, laughing.
Although Jeana said she's never been a "big drinker," if she does have cocktail, it's always "low-cal. You have to make it part of your routine and everything else falls into place," she confessed.
Article continues below advertisement
"I've always been confident, but I feel a lot better," Jeana added of her new "solid" size 8 frame.
And that confidence has even opened new doors in her personal life.
"I'm dating one particular person who's pretty special," she said. "We work out together- he even does extra cardio with me!"
Even her friends have jumped on the calorie-burning bandwagon: "Everyone's taking the journey with me. All my girlfriends, they're like, 'we can't have you looking better than us!'" Jeana laughed, adding that her daughter Kara has even lost about seven pounds.
But don't look for the one-time Playmate of the Month to grace the magazine's pages once again to show off her new svelte physique.
"I don't see any reason to do it now. What would be the purpose?," Jeana said. "On the show we've worn swimsuits and sexy stuff. There isn't that much left that people haven't seen."
Although she admitted that she "loves" Spandex pants and "lives" in lululemon athletic wear, she's willing to trade those in for something skimpier – that is, to celebrate her continued weight loss.