Exclusive
EXCLUSIVE: Beverly Hills Housewives Talk About Reality Show Marriage Curse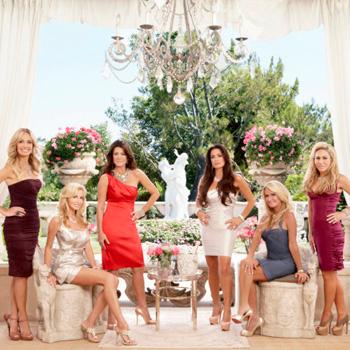 We'll soon get a glimpse of the SoCal glitz and glamor in the new The Real Housewives of Beverly Hills, but as we've seen in past franchises, as the drama unfolds marriages can fall apart too.
But that's all a part of reality, the leading ladies of Beverly Hills told RadarOnline.com exclusively.
"It's reality though isn't it?" said restaurateur and entrepreneur Lisa VanderPump who owns Villa Blanca and Sur. "That would have possibly happened if the cameras were there or not. I mean, there are so many women in this franchise now that of course some are going to get divorced or get sick, that's just what's going to happen naturally."
Article continues below advertisement
Former OC cast member Jeana Keough divorced her baseball star husband Matt, Catherine Ommanney of the DC series is getting a divorce, and viewers are now watching Atlanta housewife NeNe Leakes' not-so-marital bliss.
LINGERIE PHOTOS: 'Housewife' Gretchen Rossi
90210 housewife Adrienne Maloof, of the Maloof Family dynasty, said her husband actually approached her to do the show and she wasn't worried about any curse. But said the Bravo series spotlight can make any relationship challenging.
"I think it's a little more challenging because it gives the women their own identity," she said, "… certain people who didn't have their own identity possibly now have a stronger identity of their own and then the husbands begin to feel like 'hey, I'm taking a back seat here,' and it may cause conflict that was unexpected."
Even more recently fans have seen The Real Housewives of Orange County star Tamra Barney's marital meltdown take place on and off the small screen, even with her estranged Simon accusing the show of exploiting the family.
Article continues below advertisement
Beverly Hills' single mom and former child actress (and Paris Hilton's aunt!) Kim Richards talked to her kids about participating in the show and the attention it could bring just to make sure everyone was on board.
"I grew up as a child actress so for me for my kids to be on camera was simply something I wasn't really concerned about in as much as they wanted to participate," said Kim, whose sister Kyle will also be co-starring with her. "So we sat down as a family to discuss it…they all jumped on board…they participated as much as they wanted to, they weren't forced to, it was their choice and how much they wanted to along the way."
Adrienne decided to keep her kids out of the public eye and away from the camera lens.
"I did not want my children too much in front of the camera," she said. "You may see them once or twice. They're very young and I just didn't feel that for me personally that they were ready for that and obviously could not make that decision. So I made the decision to have them in very little."
Season 1 of The Real Housewives of Beverly Hills premieres Thursday, October 14 on Bravo.