EXCLUSIVE: Kroy Biermann To Pop The Question To 'Real Housewife' Kim Zolciak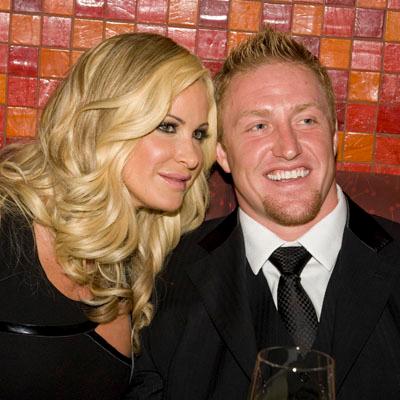 Kim Zolciak's toyboy lover NFL star Kroy Biermann is planning to propose to the reality TV star, and it could happen on the current series of Real Housewives Of Atlanta, RadarOnline.com has exclusively learned.
The relationship between Kim, 32, and Kroy, 25, has been growing stronger in the last several months, and the Atlanta Falcons defensive end wants to make an honest woman out of the controversial wig-wearing blonde.
Article continues below advertisement
PHOTO: Kim Zolciak Strips Down For A Cause
And now that her long term on/off boyfriend 'Big Poppa' (Lee Najjar) is no longer in her life, Zolciak, a mom-of-two, is seriously considering settling down with the Montana-born football player.
A source told RadarOnline.com, "It looks like Kroy is preparing to ask Kim to marry him, and their have been secret discussions to include his proposal on the show.
"They really like one another and in the new series viewers will not see 'Big Poppa' involved, so, it leaves room for Kroy to appear as Kim's love interest.
"Despite what a lot of people might think they both have strong feelings for one another, and Kim likes the fact that he is great with her daughters while is comfortable enough to let her take center stage too.
"It is still not known if this will be her last season on the show but if he was to propose within the coming weeks it's more than likely she would say yes to him."
Article continues below advertisement
Zolciak – who is also attempting to launch a career as a pop singer – recently spoke candidly about her relationship with Biermann defending him against allegations that he's dating her solely to raise his own profile.
She told RadarOnline.com: "People keep calling me a cougar. But I'm 32, he's 25 - we just have a great connection and we're still together. It's been over 5 months.
"He's just fantastic. I'm really happy, I'm in a great place... He's great, I mean, he's great with my girls.
"He's not 25 out partying every night and that kind of thing. He doesn't have that mind frame and maybe that's why it worked. I mean whether he's younger or not is irrelevant."
Ironically, Zolciak's RHOA co-stars NeNe Leakes and Kandi Burruss have also found love with two other NFL players also.
Burruss is dating Baltimore Ravens running back Willis McGahee, while NeNe has been linked with Chicago Bears defensive end Charles Grant.