Exclusive
EXCLUSIVE: NJ Housewives Fashion Show Fiasco - Catfight On The Catwalk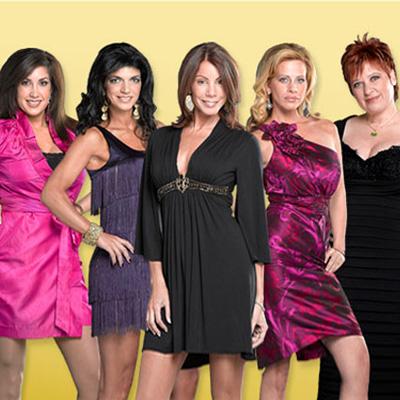 It's deja vu for the Real Housewives of New Jersey after the fashion show last year turned into an all out brawl with cops called to the scene, and Tuesday's fashion show that started off calm but, as usual, emotions spilled over.
The newest sworn enemies of the popular Bravo reality show - Teresa Giudice and Melissa Gorga - had their first run-in since their now infamous family fight last week, only this time it was on the runway, and RadarOnline.com has exclusive details from their icy reunion.
Article continues below advertisement
Teresa and new season 3 cast member Melissa, who happens to be her sister-in-law, strutted down the catwalk for the Posche boutique fashion show held at the Brownstone – the Manzos family-owned event hall.
"Melissa and Teresa were on separate sides of the room," an eyewitness told RadarOnline.com. "And not surprisingly, they were not speaking. It was Melissa's side versus Teresa's side. But you could see Teresa was intimidated. She sat in her seat. She didn't move or talk to many people. She was not her 'big' self."
Teresa was upset with another new cast member, her cousin Kathy Wakile, who was sitting with Melissa, because Teresa said she was "kissing Melissa's a**," an eyewitness said.
PHOTO: Kim Zolciak Strips Down For A Cause
"Teresa gave Kathy a hard time about it. But Kathy has only tried to be the peacemaker between the two sister-in-laws.
"It all started because Teresa was mad that Melissa was in the show for Posche and that Melissa was originally supposed to walk the runway before her," said the eyewitness, adding that Teresa ended up walking out first.
Article continues below advertisement
"It's competition, bottom line."
But during the fashion show it was Teresa who got the cold shoulder, according to the eyewitness.
PHOTO: Kim Zolciak Strips Down For A Cause
"When Teresa came out there was not much clapping or reaction. But when Melissa came out the room went nuts! A lot of the guests even stood up," the eyewitness said. "Melissa looked beyond beautiful."
Although sparks didn't quite fly like last year, "you could have cut their tension with a knife," the eyewitness said.
Bravo cameras captured all the action and all the housewives, including Caroline Manzo, Jacqueline Laurita, Kim G. and Posche owner Kim D.
The Giudice-Gorga family feud began after a recent Sunday afternoon baptism reception ended in a physical brawl between the Teresa's brother Joey Gorga and her husband Joe Giudice, as RadarOnline.com first revealed – which has since drawn a line between the families.
Article continues below advertisement
As RadarOnline.com previously reported, Teresa is also on the outs with another veteran housewife – and her one-time ally – only on Tuesday night it became clearer that their friendship is not the same.
"Teresa and Caroline were talking at the table, but you could tell that they aren't as close anymore," an eyewitness said.
Another incident backstage involved Teresa's seemingly intoxicated hairdresser, Daniel, who was talking about the christening brawl last week, leading Mrs. Gorga (Teresa's mother) to begin swearing in Italian and acting like Teresa's bodyguard.
In standing up for Teresa at the fashion show Daniel ended up cursing profanities at Caroline and her husband Albert, with the Housewives matriarch reacting to the outburst by saying, "This is my home and this isn't the time or the place," and kicked him out of the event!
For all the Housewives fans who don't remember, drama seems to follow in the fashion show's footsteps.
As RadarOnline.com reported, last season the Posche event was the site of the infamous hair pulling incident between Danielle, Teresa and Jacqueline's daughter Ashley, when the cops were ultimately called to the scene causing the women to be banned from the North Jersey County Club.
Article continues below advertisement