Exclusive
EXCLUSIVE: Family In Crisis: Real Housewives Of New Jersey Giudice Clan Divided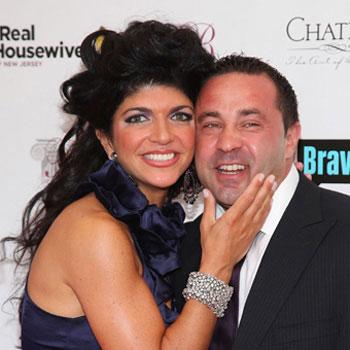 The punches are still being thrown between Teresa's Giudice's husband and brother – but this time, they're all behind-the-scenes.
After a baptism reception ended in a brawl between the pair, as RadarOnline.com first revealed, the clash has drawn a line between the families.
"It's really bad. It's really bad," said a friend close to the Gorga family, who witnessed the altercation.
The newest stars of the Real Housewives of New Jersey, Joey and Melissa Gorga, hosted a baptism for their son on Sunday with a reception at a local restaurant.
Article continues below advertisement
Joey is Teresa's brother and her husband, Joe, went head-to-head with Gorga.
"No one really got hurt, but it was more of screaming and yelling and once the screaming and yelling started it kind of killed the party," said the eyewitness.
"Everyone was dancing and having a good time.
"There was an impersonator there, Melissa's daughter performed a ballroom dance and everyone went crazy over it.
"They were dancing all night and having a great, great time and for her Teresa to disrupt it with that was disgusting."
The eyewitness claimed Teresa and Joe's attitude upon arriving at the reception late – and their demeanor -- contributed to the scuffle.
"The tone from them was just wrong... they came in all wrong," said the source.
"They came in aggravated, it wasn't going to be about them and they were pi--ed. They weren't going to feel the warmth and it wasn't going to be about them so they were pi--ed."
When asked about the brawl over the weekend, a rep for the show said no announcements have been made about production.