Exclusive
EXCLUSIVE INTERVIEW: Vicki Gunvalson's Son On Her Divorce: 'I Don't Think They've Been Happy For Awhile'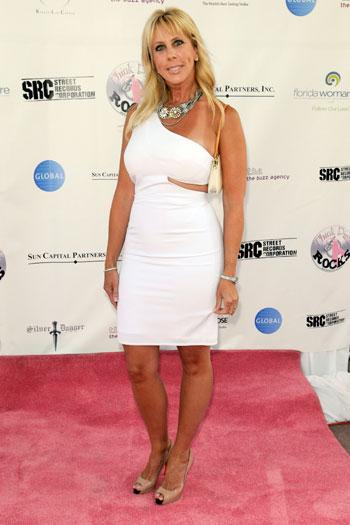 In the wake of yet another fallen marriage in the lives of the Real Housewives, O.C. Housewives star Vicki Gunvalson has filed for divorce from her husband after 15 years of marriage.
Vicki's son Michael, who has also appeared on the hit Bravo reality show, spoke exclusively with RadarOnline.com about how the family is doing and gave his perspective on his mother's rocky relationship with his stepfather, which was often caught on camera.
Article continues below advertisement
"Everyone's doing ok. I mean, my mom and Donn haven't been spending much time together," Michael said. "They're just not really enjoying each others company anymore. So it doesn't really bother me.
"I don't really get into their relationship too much, but I don't think they've been happy for a while."
Michael, 24, said with his mother's busy work schedule as the head of her own insurance company - Coto Insurance & Financial Services - and filming the show for five seasons, it has taken its toll on the marriage.
"She's got a lot going on and trying to keep busy at work and do her thing.
"I think it's for the best and they don't really enjoy spending time with each other anymore and my mom's always gone and traveling and Donn deserves someone who's going to be at home and she deserves someone that's going to support what she does," said Michael.
As of now, the couple is still living under the same roof, and when asked if Vicki has already moved on, Michael said 'No, absolutely not."
Article continues below advertisement
"It's been a couple days so she's upset about it. But things will be okay."
This isn't the first marital meltdown for the famous female faces of reality TV - Vicki's BFF and co-star Tamra Barney has been going through a bitter divorce since last year, Cat Ommanney of the D.C. franchise has been estranged from her husband since May; and Atlanta's Nene Leakes is contemplating the status of her marriage during this season.
MORE ON:
Celebrity Justice
Michael said Bravo has been filming in the O.C. all summer for season 6, but whether or not fans will see Vicki and Donn split-up on the small screen is up in the air.
"I really don't know. I kind of do my own thing. I'm not really home that often, he said. "My mom's always gone and I don't really just want to be home with Donn, I go do stuff with my friends. He's home alone a lot, he's just not happy and she's not happy so whatever my mom wants to do I support."
Article continues below advertisement
But Michael assures their marriage in the spotlight wasn't the reason for the break-up.
"I don't really think so, they had issues when I was a little kid and stuff and they just worked them out."
Michael said he and his sister Brianna, 21, support their mom and want her to find happiness.
"Donn was always the stepfather kind of figure," he said. "We just want my mom to be happy."