Exclusive
EXCLUSIVE PHOTOS: Bethenny Frankel's Long-Lost Childhood Pics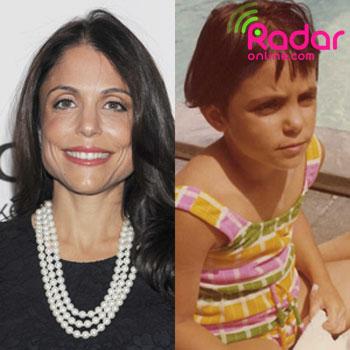 Former NYC Real Housewife Bethenny Frankel has painted her childhood as a dark one, but RadarOnline.com has obtained exclusive photos of the outspoken beauty's happier moments growing up.
Even as a young child, Bethenny was camera ready and had a sense of style. One photo of her by the pool shows her rocking a cute pixie cut and adorable technicolor one piece swimsuit while another has her hamming it up while still in diapers.
Article continues below advertisement
"She doesn't miss the chance to interject her terrible childhood in her show," Bethenny's mom Bernadette Birk told RadarOnline.com. But, Birk adds, "there were so many wonderful times" during Bethenny's upbringing.
The photos also show snippets from some of Bethenny's birthday celebrations growing up and early images of Bethenny trying out some model poses for the camera as she grows older.
Regardless of their estranged relationship, Bethenny's mom only wishes her well and is happy about what her daughter has achieved.
"She seems to have a very loving husband and I'm sure he will be a really good father," Birk said about Bethenny's husband Jason Hoppy. "She is successful and she has her baby so why throw a fly in the ointment... She has a good life so who can ask for more than that for their child.
"I wish them all the best, especially the baby."
RELATED STORIES:
EXCLUSIVE INTERVIEW: Bethenny Frankel's Mom - 'My Daughter Is Lying About Dark Past'