Exclusive
EXCLUSIVE INTERVIEW: Rachel Uchitel: 'I'm A Love Addict - And It's A Real Disease'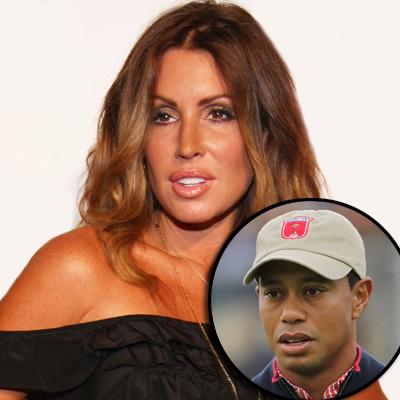 Rachel Uchitel, the first woman who was romantically linked to Tiger Woods, has broken her silence about her stint in rehab with a candid admission to RadarOnline.com: "I'm a love addict!"
NEW PHOTOS: Life's A Beach For Tiger Woods' Mistress Rachel Uchitel
"It is the most common addiction in the world, yet it is also the addiction most commonly pushed under the rug because people don't believe it exists," Uchitel told RadarOnline.com in an exclusive new interview.
Article continues below advertisement
The 35-year-old former nightclub hostess recently checked out of the transitional living facility after first receiving 21 days of detox and treatment on the hit television show Celebrity Rehab with Dr. Drew.
Uchitel, who has also admitted to having a romantic relationship with married Bones star David Boreanaz, told RadarOnline.com that her past relationships had forced her to seek help.
"People think it is a moral issue if somebody falls in love, all over the place," Uchitel told RadarOnline.com exclusively.
"It is not, it is a disease and disorder; it is where you feel like you have a hole in your heart and you are waiting for a knight in shining armor to come and save you.
"But it is not an excuse for anyone's behavior.
"You get stuck in relationships that are not right for you; you basically put a mask over somebody's head and pretend they're somebody who they're not.
"In the end, you get disappointed when they don't react the way you want them to."
Article continues below advertisement
The journalist-turned-hostess-turned-mistress, whose first fiancé died in the September 11 terror attacks, said love addicts choose to fill their life "with drugs, or work, whatever their choice may be."
"For some people, it is making their purpose or happiness be about somebody else," Uchitel said.
So profound was her stint in rehab, Uchitel revealed to RadarOnline.com that she and Dr. Drew will their love addiction message on to a wider audience, including a series of national television shows.
Uchitel said: "A lot of people struggle this whether they know it or not; I was out to dinner with some interesting people, who are celebrities in their own right, who are going through divorces or are divorced.
EXCLUSIVE: Tiger Woods In Sex Rehab
"Many people who I have come in contact with admits that they are a love addict.
"I can't tell you how many books I have given to people, gone and purchased them, that Dr. Drew gave us in rehab because now, I get it and I see it in people.
Article continues below advertisement
"Now Dr. Drew and I have plans to bring awareness about love addiction."
Uchitel was previously reported to have struggled with alcoholism and an addiction to the sleeping pill Ambien, which reportedly caused Donald Trump to withdraw his offer for her to join the cast of NBC's Celebrity Apprentice.
Uchitel admitted she was treated for "love addiction, among other things" but said Celebrity Rehab, which is due to premiere on Wednesday at 10pm on VH1, left her a changed woman.
"This was not a show for me, this was real rehab," Uchitel said.
EXCLUSIVE: All Of Tiger's Sexy Texts & Emails To Mistress
"Nothing about it was not reality; it was an amazing experience for me and I feel honored that I can pick up the phone at any time and call Dr. Drew or Bob (Forrest), or all the other people who are part of the show.
"I see them on a weekly basis; there's no money involved and no television cameras.
Article continues below advertisement
"We have meetings a couple of times a week to talk about my life, what's going on; these people are amazing role models who genuinely care."
Uchitel was the first of many mistresses ousted in the golfer's shocking sex scandal and scored a multi-million dollar cash settlement from Woods to remain silent.
BIKINI PHOTOS: Uchitel Strolls On Beach While Tiger Divorces
Woods and his wife, Elin Nordegren, divorced earlier this year after the affairs were made public.