Exclusive
EXCLUSIVE: Woman Accused Of David Beckham Affair Requests Judge Seal Court Documents About Star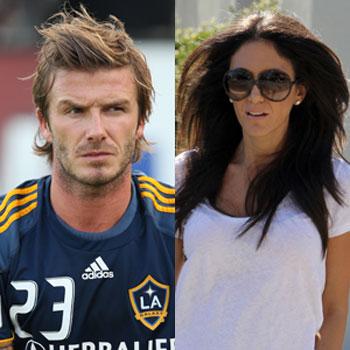 The woman accused of having an affair with David Beckham has gone to a Los Angeles court to seek a protective order sealing details that directly relate to the soccer superstar in her divorce case.
DOCUMENTS: See Shery Shabani's Court Papers Requesting Details Of David Beckham Be Sealed
According to the court papers obtained by RadarOnline.com, Shery Shabani filed for an order of protection against her husband Kambiz Joseph Shabani and also requested the court seal documents in the divorce, specifically anything relating to David Beckham. Shery previously filed court papers alleging that Kambiz accused her of an affair with Beckham and that her husband tried to run the soccer star off the road.
Article continues below advertisement
"I submit this Supplemental Declaration in further support of my Motion requesting a Protective Order sealing limited portions of the family law file that solely relate to a certain Public Figure, namely, David Beckham," Shery said in her declaration.
Shery went into great detail about the harassment she and her children have been receiving from paparazzi since news of her alleged affair with Beckham broke.
"Paparazzi jumped out from underneath my vehicle, severely startled me, and began peppering me with photographs and questions," Shery claimed.
"These experiences continue to harm our children and detrimentally impact them."
The court papers also include declarations from three people involved in Shery's life – a private security guard, a nanny and a close friend – in support of her motion for a protective order sealing anything related to Beckham.
Article continues below advertisement
During an October 4 hearing, an Order of Protection was granted to Shery against Kambiz and will remain in effect until April 4, 2011.
According to the order, Kambiz must stay at least 100 yards away from Shery's person, home and vehicle and at least 10 yards away from her "at school or extra-curricular events and/or activities that are attended by both parties."
The order also states that Kambiz "must move out immediately" from the Beverly Hills home he shared with Shery.
As RadarOnline.com was first to report, Kambiz stated in his declaration during the divorce filing that, "Petitioner (Shery) and I have been experiencing marital troubles for many months, due to my belief that Petitioner (Shery) has had an affair."
EXCLUSIVE COURT DOCUMENTS: Read Kambiz Shabani's Declaration
In documents filed on August 18 with Los Angeles County Superior Court, Sherry stated "(Joseph) has accused me of having extra-marital affairs, most often with David Beckham (which is untrue)."
Article continues below advertisement