Exclusive
EXCLUSIVE DETAILS: Courteney Cox & David Arquette Tried To Reconcile At Last Minute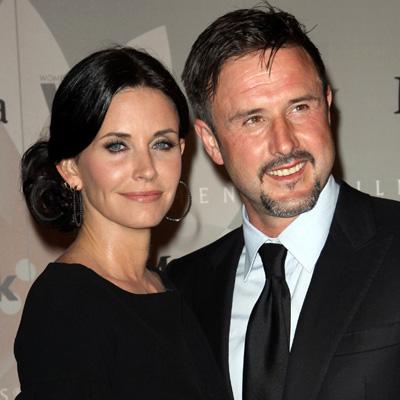 Courteney Cox and David Arquette tried to reconcile at the last minute, desperately hoping to save their 11-year-old marriage, RadarOnline.com is reporting exclusively.
FIRST PHOTOS: Courteney Cox Without Her Wedding Ring
Just days before announcing their separation on October 10, the married couple got together and tried to work things out.
They had already been living separately, and even dating other people.
Article continues below advertisement
"They've never had what most people would consider a normal relationship," said one source, who pointed out that they have been in therapy since before getting married.
Courteney and David met secretly in Los Angeles at an undisclosed location, according to friends of the couple.
"It started out good, but it didn't end that way," one pal told RadarOnline.com. "They tried to find common ground, what held them together all these years, their love for their daughter Coco.
"But it just ended in fighting and anger."
Courteney has cried a lot since announcing the end of the marriage, sources tell RadarOnline.com.
"She's tough but feels a tremendous sense of loss," the pal said. "It's hard to walk away from a marriage, even though she hasn't been happy in a long time.
"Courteney and David will be tied together for life by their daughter. Plus they both went through her infertility issues, miscarriages and all the heartbreak that went along with that."
Article continues below advertisement
Although they have been living separately for months, both David and Courteney did not know when or if they would take the next step in dissolving the marriage.
They still saw each other and shared custody of Coco. They even spent time together at the house they once shared.
"Things changed dramatically though. David slept with another person. Courteney has feelings for her costar and a complicated marriage became even more complex," the pal said.
"They got together secretly and tried to talk through their issues. They cried. They remembered some of the great times they had but then they started to fight."
Friends of the couple didn't find out about the secret reunion until days later.
"Courteney yelled at him and David yelled back," the source said. "Being apart didn't make their issues better. It just made them worse."
David shocked most people when he told Howard Stern during an interview that he slept with Jasmine Waltz, a sexy aspiring actress.
Article continues below advertisement
And as RadarOnline.com was first to report, Courteney has become extremely close to her Cougar Town co-star.
"David was too immature for Courteney. In the end that's what it came down to," the source said.
"That's why that comment came out about her feeling like his mother, telling him what to do. He's a great guy. But she thinks he's really immature. Of course, some people see it as she's controlling."
Courteney suffered several miscarriages during the marriage and that took a heavy emotional toll. But ultimately as they tried to save their marriage both Courteney and David realized they simply didn't have much in common any more.
"It was sad. They went from anger to sadness back to anger and finished very, very sad," the source said.
But when their secret meeting was over, they knew the marriage was also over. And they agreed on one final thing - the announcement of their marriage breakup.